Large cranes are piecing together the rustic arches of the new truss bridge that is being installed over the Murrieta Creek at Main Street in Old Town Temecula.
On Wednesday, Oct. 23, crews maneuvered each joint into place, reaching about two-thirds of the way across the waterway.
The segments are being set atop blue, temporary support beams in the creek bed. After the bridge is stitched together and fortified, the support beams will be removed.
The previous bridge, a concrete span that was built in the mid-1940s, was held up by permanent support beams that collected debris during storms, causing backups that exacerbated flooding issues.
Construction of the $5 million project is being bankrolled in large part by federal funds.
The Temecula City Council in January awarded the demolition/construction bid to Granite Construction, although members said they weren't happy about rewarding the company that pitched the Liberty Quarry project, and work started a few months later.  Bigge Crane is supplying cranes.
The bridge, which will feature 10-foot-wide sidewalks along both sides and pedestrian viewpoints over the creek, is on track to open in the spring, according to city officials.
A bridge has spanned Murrieta Creek at that location since the 1880s.
Staff Writer John Hunneman contributed to this article.
October 23, 2013; 03:14 PM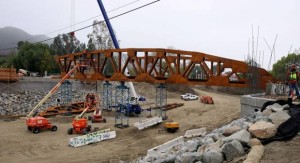 FRANK BELLINO/STAFF PHOTOGRAPHER
Work crews assemble the Main Street Bridge over Murrieta Creek in Old Town Temecula, October, 23, 2013.