Salford's iconic blue cranes will bite the dust this weekend changing the city's skyline forever.
They have towered over Salford quays since 1988 and are one of the area's original landmarks.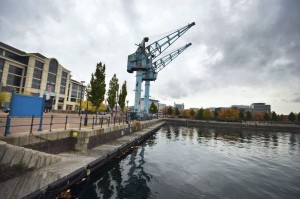 But a year-long battle to save them has been lost and they will be demolished on Saturday with work expected to take around 15 hours.
The cranes were built on south dock six in 1966 but were decommissioned and moved to their current position in 1988.
Last year a proposal to move the cranes to a roundabout on the M602 was scrapped when the council decided that moving the cranes would be too expensive.
James Walsh, a wildlife and conservation student at Salford university , who comes from a family of dockers, has been campaigning against the demolition for 10 months.
He founded the Salford Docklands Heritage and Nature Group and set up on online petition against the demolition which now has 1,276 signatures.
James said: "The cranes are worth miles more to the city of Salford than the cost of scrap metal. They're part of the fabric of the place.
"These could be profitable for the city of Salford. They are the most stunning reminder of the dockers. People did work very hard, some people lost their lives on the docks.
"Some of the kids in Salford don't even know there were docks here and people should be learning what we are all about."
Salford Mayor Ian Stewart said: "It would cost us £1m to make the cranes safe and restore them fully  – if they are not removed and a piece of falling metal crashed down onto someone, we could face a multi-million pound lawsuit.
"I am not having a potential serious injury, or even a fatality, on my conscience.
"It was a no-brainer – the council does not have the money to save and restore the cranes, when it is being forced to make £75m of cuts over the next three years."
Contractor Anthony O'Connor & Sons Ltd will carry out the demolition. Chief executive Luke Roache, 27, from Eccles, said the job is 'definitely set to go ahead'.
He said: "It's been the right decision in my opinion – they are badly degraded.  They are structurally unsound and they've gone past the point of restoration."