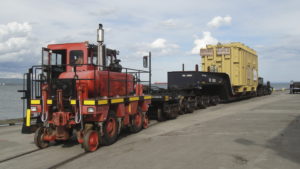 ALE has transported a transformer, weighing 249t, almost 6,000 miles, from Stafford, UK to Gillam in Manitoba, Canada.
ALE were contracted with the full turnkey scope of work, including the full project management and engineering of each phase. ALE worked in partnership with a range of local, trusted suppliers to undertake the various modes of transport over large distances in Canada.
The transformer first embarked on its extensive journey at the beginning of August and was transported and installed in several stages.
First it was transported from Stafford to Ellesmere Port, UK, using ALE's AL 100 girder frame with 22 axle lines of conventional trailers. It was then stored and lifted onto an ocean vessel for its 4,500-mile sea voyage across the Atlantic Ocean to Thunder Bay, Canada.
On the arrival at the Port of Thunder Bay 17 days later, ALE discharged the transformer onto a 16 axle line railcar. Here, it was transported for the final leg of the journey for 1,100 miles across Ontario and Manitoba, to the north of Gillam.
At the site, ALE were responsible for the offloading of the transformer from the railcar onto 12 axle lines of SPT for positioning adjacent to the foundation where it was offloaded and placed into its final position by jacking and skidding.
Written by Hannah Sundermeyer, published on www.khl.com