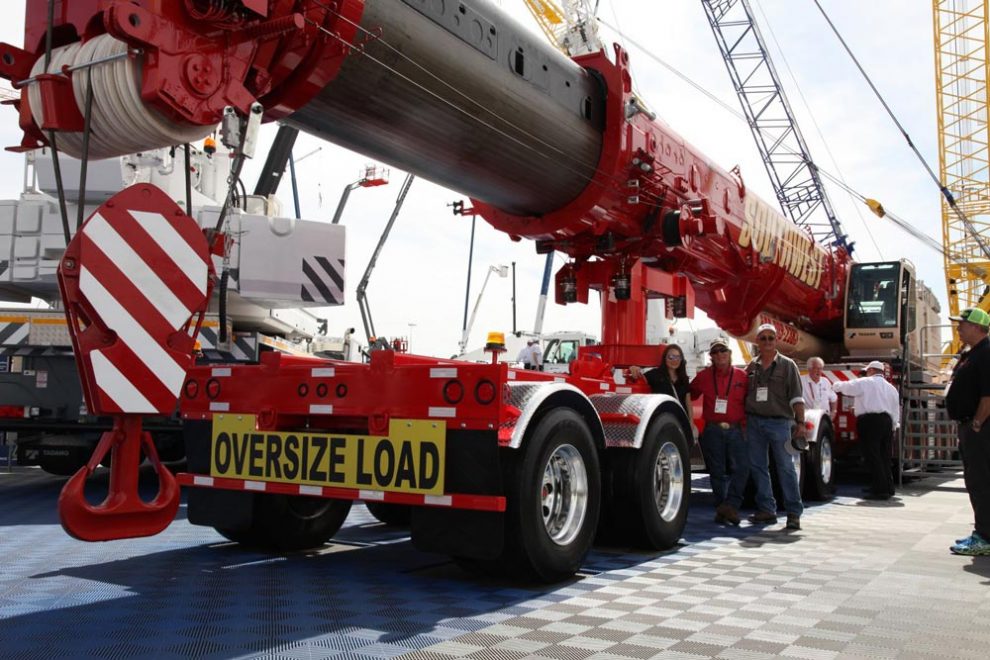 Many of the large all-terrain cranes sold at ConExpo require a helping hand from a boom dolly. Crystal Dieleman, president of TransWorld Manufacturing Co., Las Vegas, Nev., shared with Crane Hot Line some of the features on its boom dollies displayed at the show.
In the Terex booth, TransWorld manufactured an ultra-lightweight, three-axle boom dolly for the Demag AC220-5 all-terrain crane. Bigge Crane & Rigging purchased the crane and dolly. Dielelman said the boom dolly had to weigh less than 8,000 lbs. for the crane equipped with the auxiliary hoist and jib to be legal in California. "Our standard version of that dolly weighs around 9,900 lbs.," she said. "That dolly only weighs 7,800 lbs."
For NessCampbell Crane + Rigging to run its new Liebherr LTM 1400-7.1 in Washington and Oregon, it paired the crane with an ultra-lightweight five-axle boom dolly. Currently, crane owners have to launch the boom on that machine when it is mobilized in those states, she said.
In the Tadano booth, Southwest Industrial Rigging, Phoenix, Ariz., added another ATF 400G-6 all-terrain crane to its fleet, and it also purchased a red four-axle dolly to be used in conjunction with the unit.
TransWorld Manufacturing's boom dollies are backed by a number of patented and patent-pending features. They include:
Improved turning for a crane boom support system: This feature allows dollies to follow the crane more easily around a corner and reduces the torque that is imparted on the crane's boom.
Steering control for a crane boom support system: A feature that allows articulating dollies to be actively steered while the crane is reversing. Itallows cranes with articulating dollies to be precisely positioned while reversing.
Articulation limiting device for crane boom support system: This allows cranes with articulating dollies to move around a curve while in reverse. It also prevents the dolly from being damaged due to jack-knifing. Prior to this system, articulating dollies were limited to reversing in a straight line only. All new articulated dollies from TransWorld Manufacturing include this system as a standard feature.
Standard features on TransWorld boom dollies are the tower, which pivots fore-and-aft to assist the crane boom during travel, DOT-approved LED lights, air-ride suspension, aluminum fenders, air-actuated pin engagement, a mounted aluminum "Oversize Load" sign and LED amber safety beacons, and a patent-pending limiter strap to decrease the risk of jack-knifing and torquing the tower when reversing the dolly.
Originally published on cranesy.com