Back by popular demand is Crystal Dieleman's CONEXPO restaurant picks. Crystal was born and raised in Las Vegas, NV and has a passion for food. Crystal owns TransWorld Manufacturing, a design, engineering and manufacturing company that specializes in lightweight, street legal transportation and heavy duty steel fabrication for the heavy lift and heavy haul industry.
Budget-Friendly Picks on the Strip:
The Crack Shack at Park MGM is a great new spot for casual comfort food from a Top Chef All-Star. Try the fried chicken oysters. The Peppermill Fireside Lounge is a 10 minute walk from the convention center, is a reliable 24-hour diner, and it's an amazingly awesome window into what Vegas must have looked like in the 1970's. Hot N Juicy Crawfish now has a location at the Planet Hollywood. You'll find plastic covered tables and be prepared to wear a bib. The seafood is phenomenal, pick your seasoning and order a bunch of different things to spread across the table with friends. Finally, just north of the Stratosphere, inside a small strip mall, is Viva Las Arepas. Arepas are Venezuelan street food, similar to tacos, but with a cornmeal dough wrap instead of a tortilla. My favorite is the Reina Pepiada, which features their wood-fired chicken.
It's Patio Season:
Early March in Vegas is a perfect time to sit outside on a shady patio. I've always been a fan of the patio section of Mon Ami Gabi (at the Paris) for people watching and view of the Bellagio fountains. Since Conexpo 2017, Bellagio added a Spago with a patio view of the fountains. You can sit at several restaurants along the water there; I'd recommend checking out Lago. The Park, near T-Mobile arena where the Golden Knights play, will have casual restaurant patio options to choose from as well.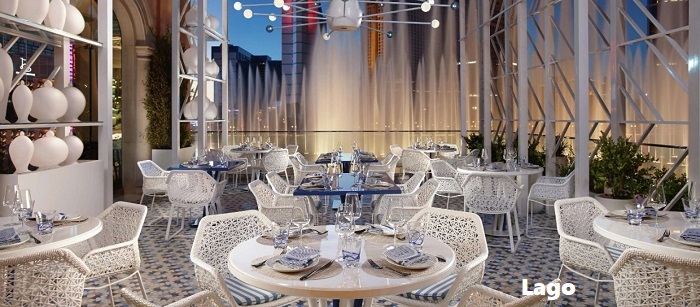 My Pick for Groups:
If you find yourself mixed up in a random group, Eataly, an Italian market-style eatery at the Park MGM, is a great choice. Start at the wine shop/tasting table and choose from an extensive selection, then everyone can go find their own food from the various stations throughout the restaurant, and all meet back to enjoy at a table together. If you are looking for something more intimate and refined, try Manzo, a restaurant inside Eataly for dry aged steaks reverse searing over the hearth.
Fine Strip Dining. It's Vegas, baby!
If you're looking for an exceptional cut of meat that's been flown in from around the world, check out Cut at the Palazzo. Majordomo Meat & Fish is an innovative, asian-inspired steakhouse and raw bar inside the Venetian, it's a sister restaurant to the famous Momofuku at The Cosmopolitan. Cipriani at the Wynn is really wonderful, get the baby artichoke salad. The Mayfair Supper Club at the Bellagio just opened on New Year's Eve, it features music and live acts for a true dining/entertainment experience. Vetri Cucina, inside the Palms, has a gorgeous view of the entire strip, try the foie gras pastrami and swiss chard gnocci.
Off-Strip:
While the Las Vegas strip has plenty to offer, I highly recommend going off-strip for a great meal. You'll find passionate chefs, likely in a quirky strip mall location, with creative food, at a fraction of the price. Call first as some restaurants can fill up quickly.
Cleaver is perfect for a steak and cocktails, it's a short ride from both the Convention Center and the strip. The only reason you haven't heard of this is because it's not in a major casino, they also have a great happy hour.
For a true "sin city" experience, head to El Dorado Cantina, which is right next to Sapphire Gentleman's Club. The table-side guacamole is a must. Don't get distracted next door- this is actually delicious, authentic Mexican food. For real!
Locale is in the suburbs, about a 15-20 minute drive from the strip, but this Italian restaurant is worth leaving Las Vegas Boulevard. The beefcheek ravioli is a crowd favorite, the octopus might be the best you'll ever try, you won't be disappointed with the wine list, and you can finish it all off with a Montenegro.
Chinatown is really where the foodie excitement is. Best of all, it's a short cab ride from your strip hotel. My Chinatown picks are: Mordeo for a shared Spanish tapas experience and a great wine list. Ask for a seat at the chefs table. Edo Gastro Tapas is also fantastic although I'd recommend the chef's tasting course here. Partage is an amazing gourmet French dining experience- again get the degustation, with wine pairings. District One is a Vietnamese-influenced restaurant great for oysters, appetizers and cocktails. Lamaii for upscale, sexy Thai food. Finally, Sweets Raku for the best dessert experience of your life.
I hope you enjoy this list and I wish you nothing but tasty adventures as you eat your way through Las Vegas!  Cheers!
Source: Crystal Dielman, TransWorld Manfuacturing