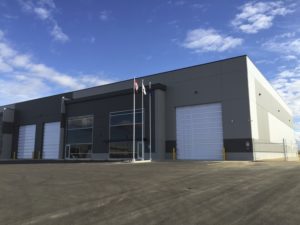 Tadano America Corporation has opened a new 21,000 square foot facility, providing complete service, repair and warranty work, as well as training facilities on Tadano cranes. This building provides the space necessary for Tadano America to stock ATF crane parts, to service cranes by factory trained technicians, and to provide training facilities for customers.
"Tadano America has been in Edmonton for eight years now. Our previous facility did not allow for the space need to provide complete repair services," said Kyle Saunders, Service Section Manager of Tadano America, Canada Branch. "The new Leduc facility includes factory trained technicians and a full-service facility with the equipment needed to allow all types of service work."
This expansion into Alberta allows Tadano to provide service through the gateway of the North, reaching existing and potential customers throughout the provinces of Canada.
Open House for the new facility is scheduled for December 8, 2016 from 2:00-7:00 PM. Ribbon Cutting is at 5:00 PM. Food, door prizes, and giveaways are provided.