The National Commission for the Certification of Crane Operators (NCCCO) and and ADSC, the International Association of Foundation Drilling, have announced plans to jointly develop a certification program for operators of foundation drill rigs.
Michael Moore, CEO of ADSC, said that NCCCO's track record of success and industry acceptance had weighed heavily in its favor when being evaluated for this collaborative effort. "NCCCO's expertise in the development of operator certification programs for the crane and heavy equipment industries, as well as the widespread adoption of its programs throughout these industries, are just two of the many reasons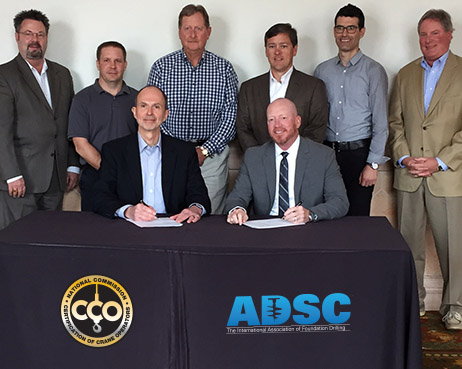 ADSC believes that NCCCO is the ideal organization to develop and administer this new program."
NCCCO is now in the process of creating a Task Force that will start by defining the knowledge and skills required for certification. Staff from the two organizations, along with representatives from equipment manufacturers, suppliers, contractors, engineers, service providers, and safety personnel, as well as other expert volunteers, will work together over the next 12-16 months to develop the program. Task Force chairman, Kevin Sharp, Northstar Sharp, Clairmont, Alberta, said the Task Force's first meeting would be April 24-25, 2017, in Dallas, Texas.
"The new program—which will be made available in 2018—will draw on industry support, subject matter expertise, and psychometric guidance," said Denny Smith, NCCCO's director of certification program development, and project lead on this effort.
Content for the exam will be based on field experience. A professional job task analysis will serve as the foundation to the examinations, ensuring its development is informed by the best practices of real-world applications.
Smith said the program would consist of written and practical examinations that will be administered by independent third-party examiners trained and authorized by NCCCO. "This will ensure that both NCCCO and ADSC will remain free of any conflict of interest with respect to the certification decision," he added. Successful completion of written and practical elements will result in eligible individuals being certified to operate foundation drill rigs.