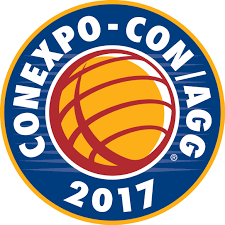 We are only a day away from the start of ConExpo 2017 and Crane Manufactures are launching new models that will be on display for the first time. We've compiled a list of just some of the new models and featured units that are a must see as you tour the Gold Lot.
G3757 Elliott Equipment Company will show the redesigned 1881TM. The 18 Ton capacity truck mounted boom truck features a 5 section, 81ft telescopic boom.
G64017 Maeda USA debuting their CC1485 6.6 Ton capacity mini crawler that will be available in North America this year.
G63348 Manitowoc Lots of teasers but we'll have to wait till tomorrow to find out all the unique innovations Manitowoc will have at the show. Confirmed is the Grove GRT880 an 80 Ton with 135' Boom from their line of Rough Terrain cranes.  National NBT40-1 Series is configured with an aerial lift offered in the aerial package making it ideal for the utility market. That's just a small sampling of what you'll see at the Manitowoc booth the rest will have to wait until next week!
G3864 Link-Belt is displaying their 228HSL, this unique 130 Ton features a 270hp Cummins QSB 6.7L with an "auto idle" engine shutdown feature as well as an "eco winch" that allows maximum line speed when hoisting light loads at idle engine.
G4137 Tadano Mantis will unveil two new telescopic crawlers. The GTC-600 and the GTC-800. The GTC series features Opti-Width track positioning which allows optimum lifting performance at any track width. The GTC-600 will be shown with the optional auger package.
G4637 Liebherr USA highlights their re-entry into the Rough Terrains with their 100 and 110 ton LRT models. They will also display a virtual reality application where visitors can experience a tower crane in real time.
G3382 Terex Crane will showcase equipment including the recently introduced five-axle family of Demag all terrains. On display will be the AC250-5, capacities ranging from 140-300T
These are just a few of the sights you'll see on the Gold Lot this week.