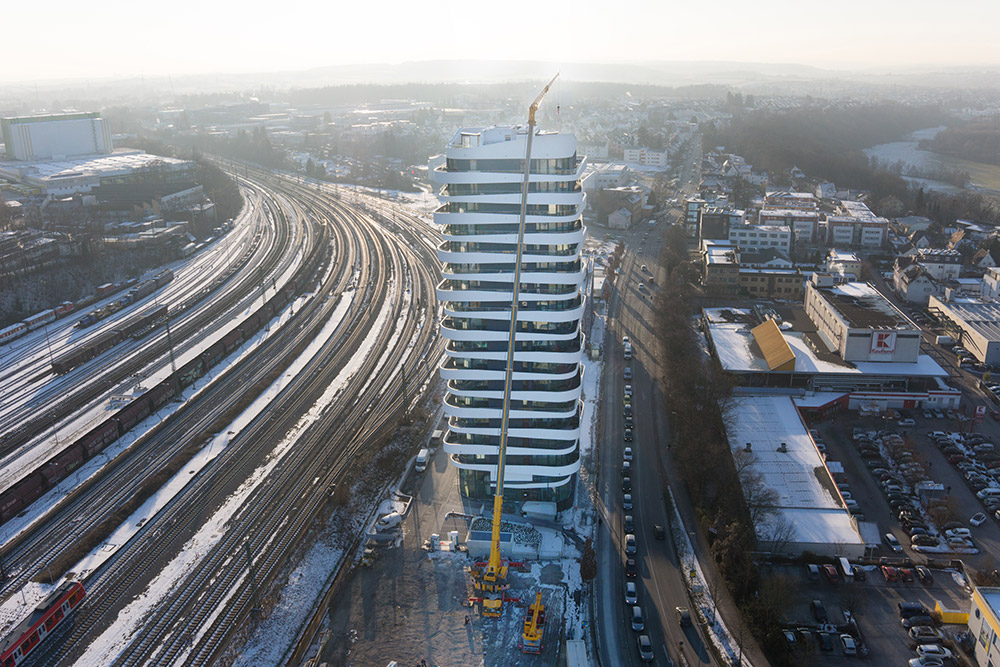 A Grove all-terrain crane helped its contractors construct the building's penthouse apartments and rooftop terrace. It also lifted materials to build one of its most striking features: a rooftop swimming pool with a view of the city below.
Wiesbauer GmbH & Co. KG used a 250 t Grove GMK5250L for the job, which had the company lift a number of elements to the building's 66 m rooftop terrace. The loads contained construction materials, wooden elements, glass panes, a refrigerator and several components for the swimming pool, with the heaviest loads weighing up to 3 t.
Christoph Kriegel, a technical field supervisor with the company, said it chose the GMK5250L for its 70 m boom combined with its 50° offsettable swingaway, which provided flexibility for a number of lifts on the job site. For its part of the project, Wiesbauer GmbH & Co. KG was able to complete its lifts in just half of one day.
"Originally, we had planned to use a smaller crane for the project, but since there were several companies working together on the job site, it made sense for them to also use our lifting services," he explained. "For these additional tasks, the GMK5250L's 70 m boom provided enough reach, and we were able to lift at up to a 14 m radius thanks to its optimal load charts. This combined with the crane's 250 t capacity proved to be ideal for the Sky construction project."
The compact footprint of the GMK5250L was also a consideration, Kriegel said. The Sky job site was in the center of the bustling city, and the crane had to be positioned in an area with tight working quarters. The crane offers the best maneuverability of any five-axle all-terrain crane in its class, along with best-in-class capacity, load charts and set up time. The crane also features the VIAB turbo clutch that enables wear-free starting and braking.
Wiesbauer GmbH & Co. KG is headquartered in Bietigheim-Bissingen and has four additional locations in state of Baden-Württemberg, Germany. The company operates throughout Europe and has a fleet of 130 vehicles, including various cranes, transport vehicles and forklifts. Among them, the company owns a fleet of 10 Grove cranes.