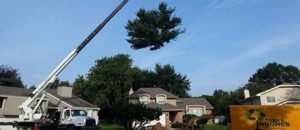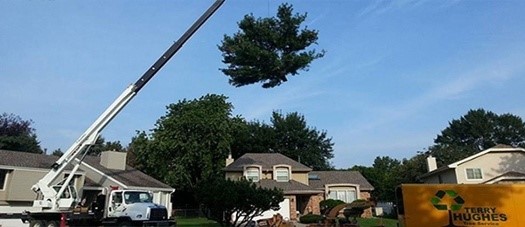 Terry Hughes Tree Service, Omaha, Neb., was looking for a crane that would make tree removal faster and easier.  A key issue for cutting down and removing trees is what surrounds the jobsite, and the company was in search of a crane with a longer boom and better side reach than its previous unit. After requesting product demonstrations from Elliott Equipment Co., the tree service company selected the 30105R BoomTruck.
The crane's capacity and boom length were selling points of this model, as it is sized to access a variety of private, commercial, and public properties. The 30-ton crane features a four-section telescopic boom that extends 105 feet from a rear-mounted turret with multiple operator control station configurations. The long boom length allows operators to execute even the trickiest maneuvers, including parking the boom truck curbside and hoisting large branches or trunks out of a homeowner's back yard, over their house, and down to the street for removal.
With the Elliott 30105R Boom Truck, Terry Hughes Tree Service can lift and move larger branches with greater speed and ease. Because the crane can lift heavier loads than their previous boom truck, the company can haul more branches or trunk sections away in one lift, reducing the workload for workers on the ground. The pilot-operated, hydraulic precision controls stationed in the cab enhance crane safety and ease of work.
It also has front and rear out-and-down outriggers that spread 20 feet with full- and mid-span operation, which allows it to set up on more varied terrain. The two-speed winch has a 9,060-pound single line pull and rotation-resistant wire rope.
The company reports that the Elliot 30105R Boom Truck has performed so well that the company has cut its on-site time in half since purchasing the crane. This has resulted in immediate savings on labor costs, which can be applied to the company generating new business. Terry Hughes Tree Service has earned more jobs because of the ability to submit lower bids.