SÃO PAULO (AP) –
A 55-year-old Portuguese man was killed in an accident on Friday while disassembling a crane that was used to install the stadium's roof, becoming the third worker to die at the venue in less than a year.
The Arena da Amazonia is one of the five stadiums still under construction for the World Cup. Brazil promised all 12 venues would be ready by the end of last year, well ahead of the June 12 opener, but only seven have been completed. Six of them had to be ready for the Confederations Cup warm-up tournament last June.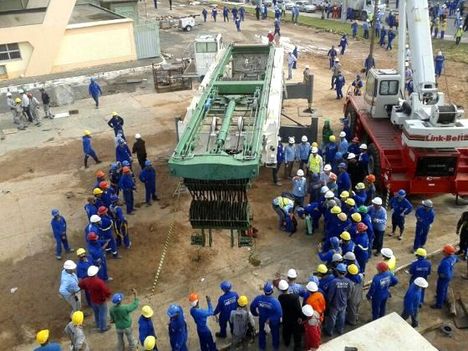 Organizers said the Arena da Amazonia was nearly 97 percent completed when the accident happened, with only minor details keeping it from being inaugurated sometime this month. Amazonas state Gov. Omar Aziz was expected to visit the stadium on Friday to announce the inauguration date, but the visit was canceled because of the worker's death.
Organizers said Friday that the accident would not interfere with the stadium's construction because the crane had already been removed from the venue's main construction area.
The worker who died was identified as Antonio José Pita Martins, who was working for the Portuguese company Martifer, a multinational focused in metal constructions.
Authorities are investigating the accident and public prosecutors said they will halt construction if safety conditions at the site are not adequate.
The first death in Manaus happened in March, when a man fell from a scaffold and hit his head. In December, another worker died after falling 115 feet (35 meters) while working on the stadium's roof, prompting a work stoppage of four days as authorities inspected safety conditions. Later that same day, a worker died of a heart attack while paving an area outside the venue.
Seven workers have died at World Cup venues so far. In late November, two workers were killed when a crane collapsed while hoisting a 500-ton piece of roofing at the stadium that will host the World Cup opener in São Paulo. In 2012, a worker died at the construction site of the stadium in the nation's capital, Brasilia.
Brazil has been under a spotlight because of its problematic World Cup preparations, with the southern host city of Curitiba still in danger of being dropped because of a delay in stadium construction. The country also is making headlines because of fan violence and turmoil in the Brazilian league, which may not start on time because of a series of civil lawsuits against a sports tribunal decision that altered last year's final standings.