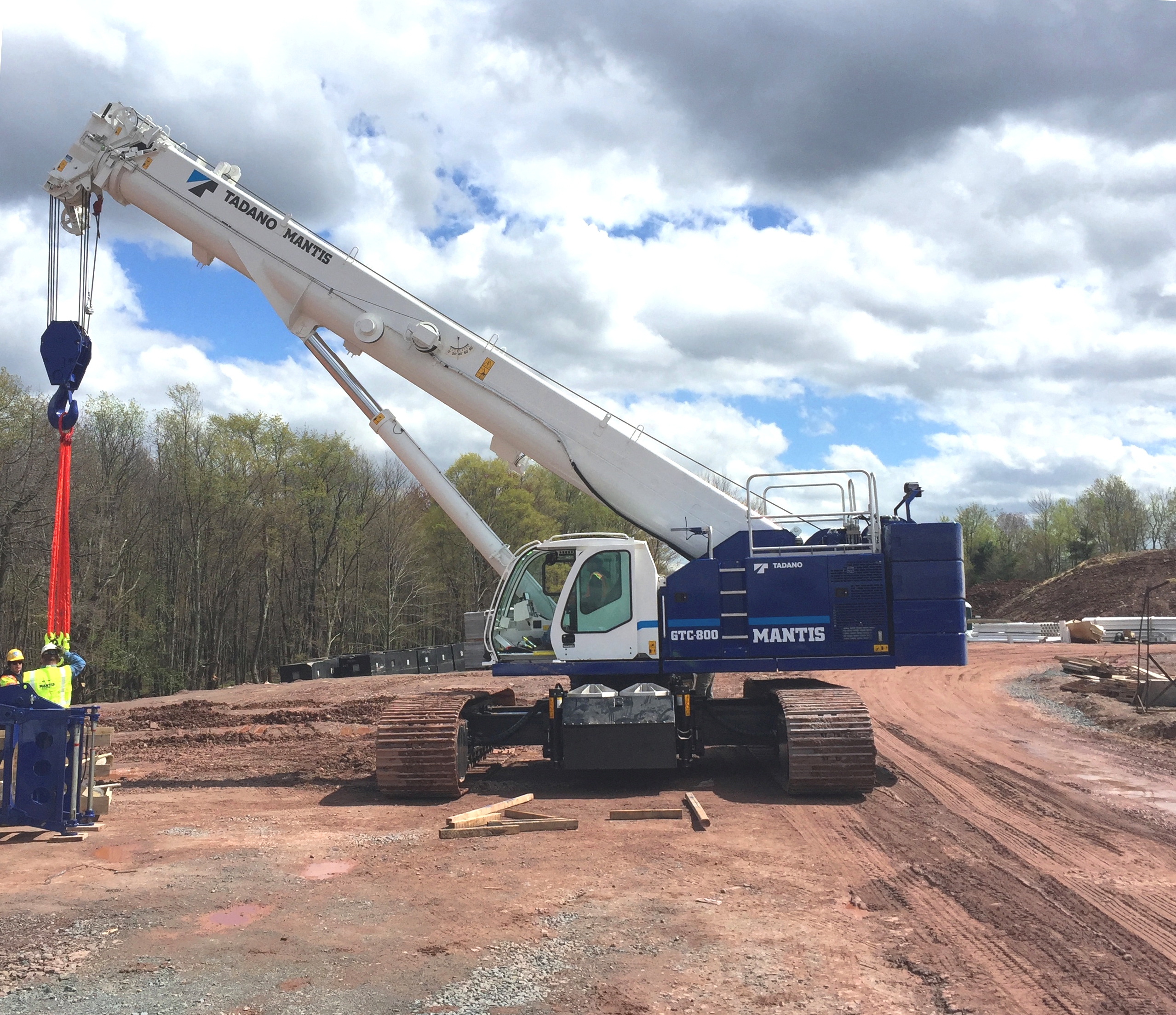 A new Tadano Mantis GTC-800 was delivered this week to American Crane & Rigging LLC and bare leased to American Iron Inc. in the state of New York by Empire Crane Company. The 88-ton telescopic-boom crawler crane will be erecting steel on the new Sullivan County Jail.
Michael Hoy, who owns both American Crane & Rigging LLC and American Iron Inc., was thrilled with the new machine: "Self-assembly is a fraction of the time in comparison to conventional rigs in their class and the hydraulic boom gets this crane built in a smaller foot print unlike conventional crawlers. With adjustable load-charted track spans, pick-and-carry, out-of-level load charts and no outriggers to crib, these cranes have advantages over RT's as well. This rig fits our erecting steel and our rental market needs perfectly. It is also designed for pile driving. Please call us if you need to rent this versatile crane."
The new GTC-800 features a five-section, 141.1-foot main boom, plus a 58.1-foot bi-fold jib. The crane has automatic switching load charts for operation at up to four degrees out-of-level; the level ground charts for Tadano Mantis are for slopes to 1.5 degrees.
The GTC-800 boasts the Tadano AML-C rated capacity indicator with OPTI-WIDTH™ (Tadano Mantis' system allowing asymmetric track positioning in reduced width configurations), HelloNet Telematics and a Cummins 310hp QSB6.7 Tier 4f engine.
American Crane & Rigging was established in 2006 and its sister company, AISC-certified American Iron Inc., was established in 2003. Both businesses are located in Schenectady, New York.