Minnesota-based Landwehr Construction has completed a cooling tower installation and petro vessel removal projects using a 400USt (350t) Terex AC350/6.
Landwehr mobilized the all terrain crane 45 miles (72.4 km) from its headquarters to Melrose, Minnesota for a cooling tower lifting project at a dairy processing facility. Due to the tower's weight, facility's wall height and how deep into the roof supporting materials had to be placed, the pick required 157.5ft (48m) of luffing jib.
The crane's full 257,300lb (116.7t) counterweight package was required to lift the 30,000lb cooling tower. Mobilising the crane, luffing jib and counterweight required a total of seven truckloads.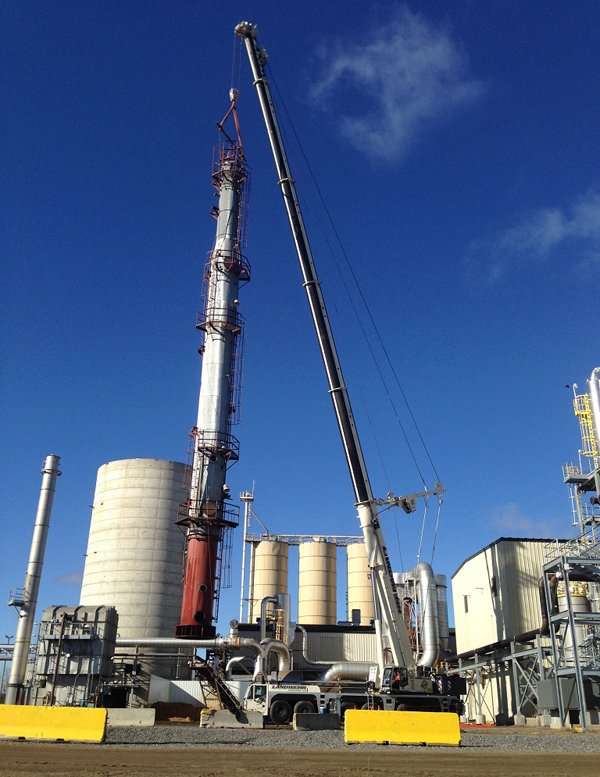 Within about an hour, the crane and truckloads arrived at the dairy facility. It took Landwehr's four-person rigging crew plus two operators five hours to configure the AC 350/6 crane with maximum counterweight and luffing jib for the lift.
Including the tower unit, supporting structure pieces, catwalks and ladder, the crane made a total of 12 picks for the job. By far, the most complex part of the lift was the cooling tower critical pick.
Chuck Paulson, crane manager at Landwehr, said: "Lift planning for the cooling tower was one of the biggest challenges. We had to devise a flight plan to minimize worker evacuation for the cooling tower pick, since this was an active factory during work hours."
To clear the 25ft-tall (7.6m) factory wall while lifting the 12ft-wide by 24ft-long by 10ft-high cooling unit, the crane's center pin was positioned 26ft away from the building. Crews initially used 74ft of main boom with the 157.5ft of luffing jib positioned at 73°.
Some of the structural steel had to be placed an additional 80ft into the building's roof. For this, the crane operator telescoped the main boom to 178ft and changed the luffing jib's angle to 65°. "This gave us a 6,000lb capacity when we were working at a 230ft radius," said Paulson.
Within eight hours, all the lifts were made. Afterwards, Landwehr's crew had the crane de-rigged in about five hours and prepped to move for its next project. It made another 45 mile trek to Little Falls, Minnesota to lift and remove a 60,000lb vessel at an ethanol plant.
This time, Landwehr called upon the crane's Superlift structure to boost main boom lift capacities. Using 211,000lb of counterweight, the operator needed 177.8ft of main boom to lift the 113ft-tall. It worked at a 72ft radius to maneuver the vessel into its final position.
With space being tight at the refinery, the all terrain crane's size and close radius working capabilities proved to be significant benefits for Landwehr.
This article originally appeared on CranesTodayMagazine.com.