LORDSTOWN – Cranes on Wednesday hoisted large pipes and other equipment around the site of a Utica Shale well that has been a point of contention among some neighbors.
But Halcon Operating Company promises this time when it drills and hydraulically fractures the next leg of the Kibler well, it will do what it can to muffle the noise and lights affecting neighbors. The company on Friday received permits for two additional wells at the site just south of Brunstetter Road.
Noise, lights, smells and worries over large flames flaring from the initial Kibler well drilled and fracked in the first half of this year had raised the ire of nearby residents. The well turned out to be so successful that the company now is moving forward with the addition of more legs in the same area. But after urging from local elected officials, the company in a Sept. 16 letter told officials and safety forces it will do what it can to lessen the effects.
October 17, 2013
By BRENDA J. LINERT , Tribune Chronicle | TribToday.com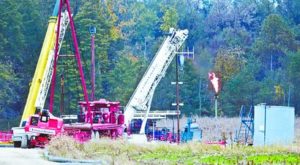 A new Utica Shale well is being drilled on the Kibler property, just south of Brunstetter Road in Lordstown. Halcon Operating Company has promised to do what it can to muffle the noise and dim lights that disturbed neighbors when an earlier well was drilled.