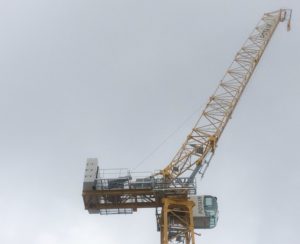 Tower crane manufacturer Potain has shown a new hydraulic luffing jib tower crane concept at the Bauma China exhibition in Shanghai.
The MCH 120 is a design collaboration between the French and Chinese engineering departments of Manitowoc's Potain division. The 120 tonne-metre rated crane is a flat top luffer with short counter jib and the possibility of a steep out of service position for use on congested sites. In addition, the concept is designed to offer faster and easier erection from a compact package.
A requirement for the design was to have the same performance and quick luffing as a rope luffing type and to save time in cost and operation. To do this needs a powerful hydraulic pump and smart hydraulic control. This new mechanism is named VVH.
It will lift 8 tonnes on four falls of rope and 2 tonnes at the maximum 50 metre radius. The counter jib is 7 m and the out of service radius is 13.5 m with the jib angle around 88 degrees. Mast sections are the same 1.6 m L48 type as for the MCR 160 and MCT 205 models or a 2 m mast can be used.
Target markets include Vietnam, Thailand and Philippines.