Manitowoc Cranes will use Dach + Holz International to introduce the Potain Hup M 28-22 self-erecting model, designed according to the needs of the German market.
The 80 km/h transport axle makes the Hup M 28-22 suitable for road transport in line with the needs of German customers.
Manitowoc will present this compact and high-performance model along with three of its distribution partners at booth 7/11 in the Free Area (Freigelände).
At the forthcoming Dach + Holz International exhibition in Stuttgart, Germany, on January 28-31 Manitowoc Cranes will officially introduce the new Potain Hup M 28-22 mobile self-erecting crane to the German market.
Manitowoc Cranes will present this model together with three of its German distributors – Noe from Möglingen, Bregler + Klöckler from Bad Waldsee and Schwab from Dettenheim.
The Potain Hup M 28-22 concept was previewed at Bauma, in April 2019. The new format presented at Dach + Holz International, however, features an 80 km/h axle making it suitable for road transport.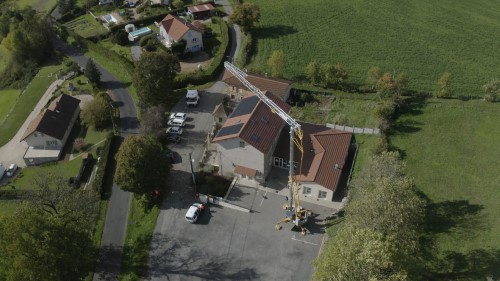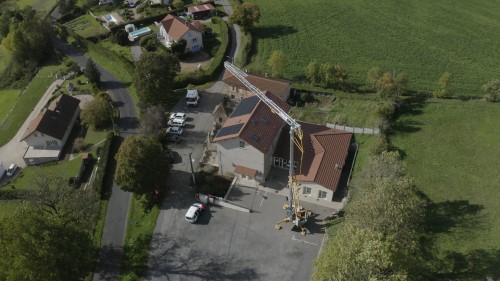 M for mobile
The 80 km/h version has been developed for German customers and is the most advanced version of this self-erecting crane to go on the road and be transported as a standard truck.
The integrated transport axle and the permanent ballasts make the crane simple and easy to transport. The Potain Hup M 28-22 is the only self-erecting crane with a 28m jib in such a compact transport format, 11.6 m long and 3.6m high. This means it can be transported as a standard truck and go under bridges.
The Hup M 28-22 is easy to erect and dismantle thanks to the exclusive Potain Smart Set-up, the Hup cranes' ergonomic remote control software.
High performance
The Potain Hup M 28-22 is a high-performance model, allowing a maximum load of 2.2t and up to 850 kg at 28 m jib. The latest technology mechanisms, such as DVF Optima for trolleying, LVF Optima for lifting and HPS for slewing, ensure the ultimate in comfort and precision.
With a 28 m jib and 19-31 m height under hook thanks to the raised jib positions, the Potain Hup M 28-22 is suitable for a wide range of lifting needs, especially for small housing construction applications. Given that Dach + Holz International is dedicated to the roof and timber construction industry, the Hup M model is ideally suited to the exhibition's audience.
Booth 7/11 Free Area
"We expect a good start in the new year with the participation of our three dealers at this fair," says Ruediger Boeck, sales director for Central Europe at Manitowoc Cranes. "The presentation of the new Hup M 28-22 will strengthen our market-leading position in Germany."
Source: Manitowoc