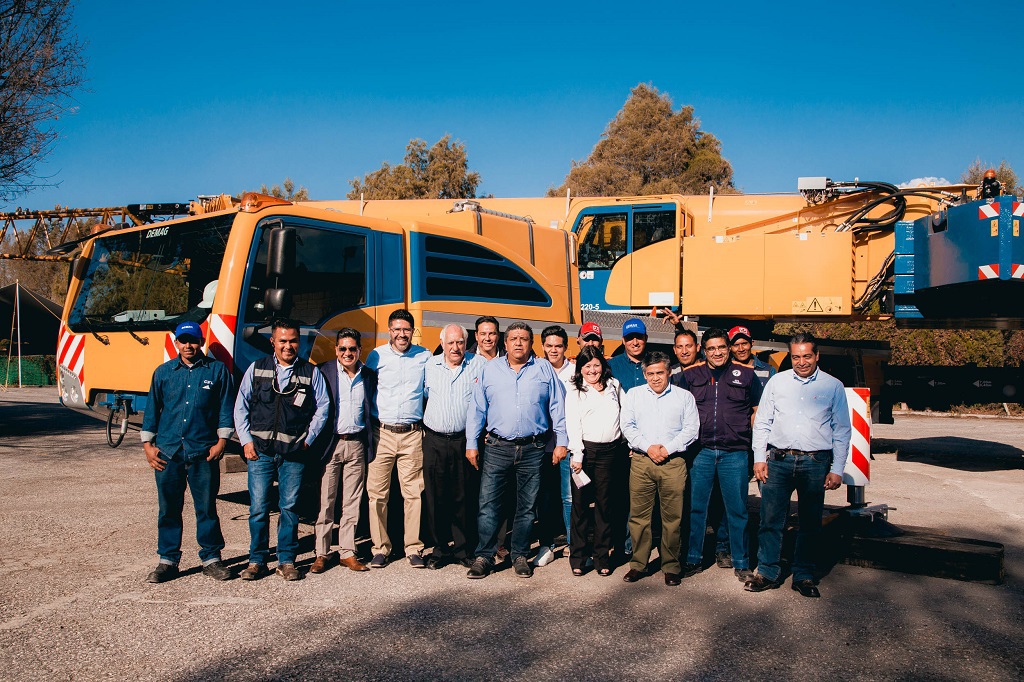 Mexico-based crane and logistics company GSL has expanded its fleet with the addition of a new Demag® AC 220-5 all terrain crane — the first crane of its kind working in the Americas. As a company that prides itself on having the most innovative equipment in the industry, GSL's newest 5-axle Demag crane comes equipped with innovative technology advancements, including the IC-1 Plus control system. This system increases the crane's versatility and reduces transportation costs, as it is designed to provide the crane's maximum allowable lifting capacity, based on the slewing angle, for every crane configuration This advantage is particularly useful when working with reduced outrigger settings and reduced counterweight.
"We determined that the Demag AC 220-5 all terrain crane was the best machine for our needs after evaluating several crane models in, and around, the 220-tonne capacity class at bauma last year," explains Carlos Salas, president of GSL. "The combination of this unit's compact body design, maneuverability, reach and high capacity range was what really sold us. It will help us better service our customers in, and around, Mexico City — especially on those jobs where we don't have a lot of room to work within."
GSL introduced their new AC 220-5 to customers at an open house February 23. Customers included various crane hiring companies with a focus on tower crane erection. "Our guests were impressed with the crane's innovative features and state-of-the-art technologies," says Salas. "We received several inquiries during the event about future projects. It was exactly the type of response we were hoping for."
The GSL Demag AC 220-5 crane is a 220-tonne capacity class crane and has a 78-m main boom, plus a 21-m boom extension for a 99-m maximum reach. It also boasts all-axle steering, independent rear-axle steering and a dynamic launch control to deliver superior maneuverability for positioning the crane in confined spaces. For more information on the crane please follow the link: Demag AC 220-5 All Terrain Crane.
Original Article Posted on Crane Hotline