Steel skies: The lowdown on the meteoric rise of Austin, TX tower cranes.
19 Photos More Courtesy of Nick Simonite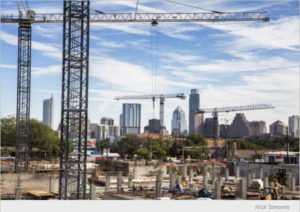 A gaggle of tower cranes implies that real estate development is on the march. That surely is the case in Austin where the steel structures puncture the skyline every few blocks.
The cover story in this week's Austin Business Journal by photographer Nick Simonite showcases many of the cranes jutting skyward over major construction sites in the Central Business District. Think of it as a virtual tour of the next big buildings of Austin. I've attached many of the stunning photos that ended up on the cutting room floor to this story. Just click the image to get started.
But before you jump into the photos, know that the crane industry is an exclusive club that executes some of the most delicate work in the world. They're in very high demand, and I've been dealing with the handful of members for quite a while.
The tower crane business is booming here just as it was in the summer of 2007 when I moved to Phoenix as a reporter for the Phoenix Business Journal. At the time, I interviewed Dave Lord, a tower crane operator and the owner of Arizona-based Competition Erecting, which provided tower cranes throughout the Southwest.
"There's only five businesses in the U.S. that do this full time. We're one of them," Lord said at the time.
That statistic might not hold true now, but one thing is certain: Owning and operating tower cranes involves a small niche of specialized businesses and construction experts.
"We stay in touch with the best tower crane operators. They're highly trained. You get to know who they are by word-of-mouth," said Bryan Smith Sr., a building superintendent with California-based DPR Construction Inc., which is building the JW Marriott in downtown Austin and has had as many as three tower cranes on the tightly packed site. "Sometimes you can find these guys and sometimes you can't get rid of them."
Staff Writer-Austin Business Journal