Underworld identities Mick Gatto and Matt Tomas are shutting down their crane-hire business, ending a partnership plagued by bad debts, union problems and a downturn in the construction industry.
The heavy cranes of the Brooklyn company, which has been involved in landmark projects such as the MCG and Spencer Street redevelopments, have been listed on auction website graysonline .com in a sale that is likely to fetch millions of dollars.
The selloff is also likely to mark the end of the business partnership between the long-time friends, which has been strained by allegations that Mr Tomas may have been assisting Victoria Police in a murder investigation.
The claim has been strenuously denied by Mr Tomas, who said he has been the victim of a frame-up.
The pending closure of
Elite Cranes
comes just months after the company narrowly avoided being tipped into insolvency over an unpaid $67,057 debt to a subcontractor.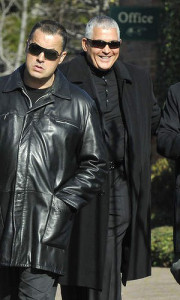 Mr Tomas (left) and Mr Gatto (right), who also runs a debt collection business, avoided liquidation by paying the bill just minutes ahead of a scheduled Supreme Court hearing.
Mr Gatto declined to comment, but Mr Tomas denied the business was in trouble.
"We've fulfilled all our contractual obligations and the appropriate thing to do is to close. It's a good time to sell," he said. "There is plenty of equity in the fleet and whatever we get in the selloff – after we meet our obligations – will go to me and Mr Gatto."
Mr Tomas said 70 per cent of the fleet had been sold but seven cranes were available on grayson line.com. Immediate offers will be considered but the equipment, including a 300-tonne-capacity crane, is available for pick-up only.
It is unclear how much money will end up going to Mr Tomas and Mr Gatto as NAB, Westpac and Capital Finance Australia hold mortgages over the fleet, according to company documents.
Fairfax Media has previously revealed that the company and the partnership have been in trouble for some time.
Building industry sources say Elite Cranes has failed to pay union fees on behalf of its employees to the Construction, Forestry, Mining and Energy Union. The company also had to lay off about 20 staff in 2012 over "tax issues".
"Things are tough for the construction industry. We're just one of the [companies] that's doing it tough right now," Mr Gatto said ahead of the insolvency hearing.
Mr Gatto, who resigned as a director and secretary of the company in December 2012, remains a 50 per cent shareholder in the business, but denies being involved in its daily operations.
Mr Tomas, who was acquitted of murder charges in the 1996 bashing death of a teenager, was himself the subject of an alleged murder plot in 2003 by Tommy "Little Tommy" Ivanovic.
Earlier this year, Mr Tomas was allegedly secretly recorded providing assistance in a police murder investigation that has been widely leaked to Melbourne's underworld.
But Victoria Police have been trying to play down the claims. "Mr Tomas did not provide police with any information and remains unco-operative," a police spokesman said.
"Victoria Police is concerned that the continued misreporting of this situation is damaging to both the investigation and Mr Tomas, having the potential of placing him at some personal risk."
Mr Tomas has also claimed he has never assisted or made any statement to police. "I've got an original of the tape. What got out there was a tape that got cut and pasted, on whose decision I don't know."
[email protected]
Read more:Â http://www.theage.com.au/victoria/gatto-sells-cranes-in-online-auction-20131021-2vx5t.html#ixzz2iNxFwDSf