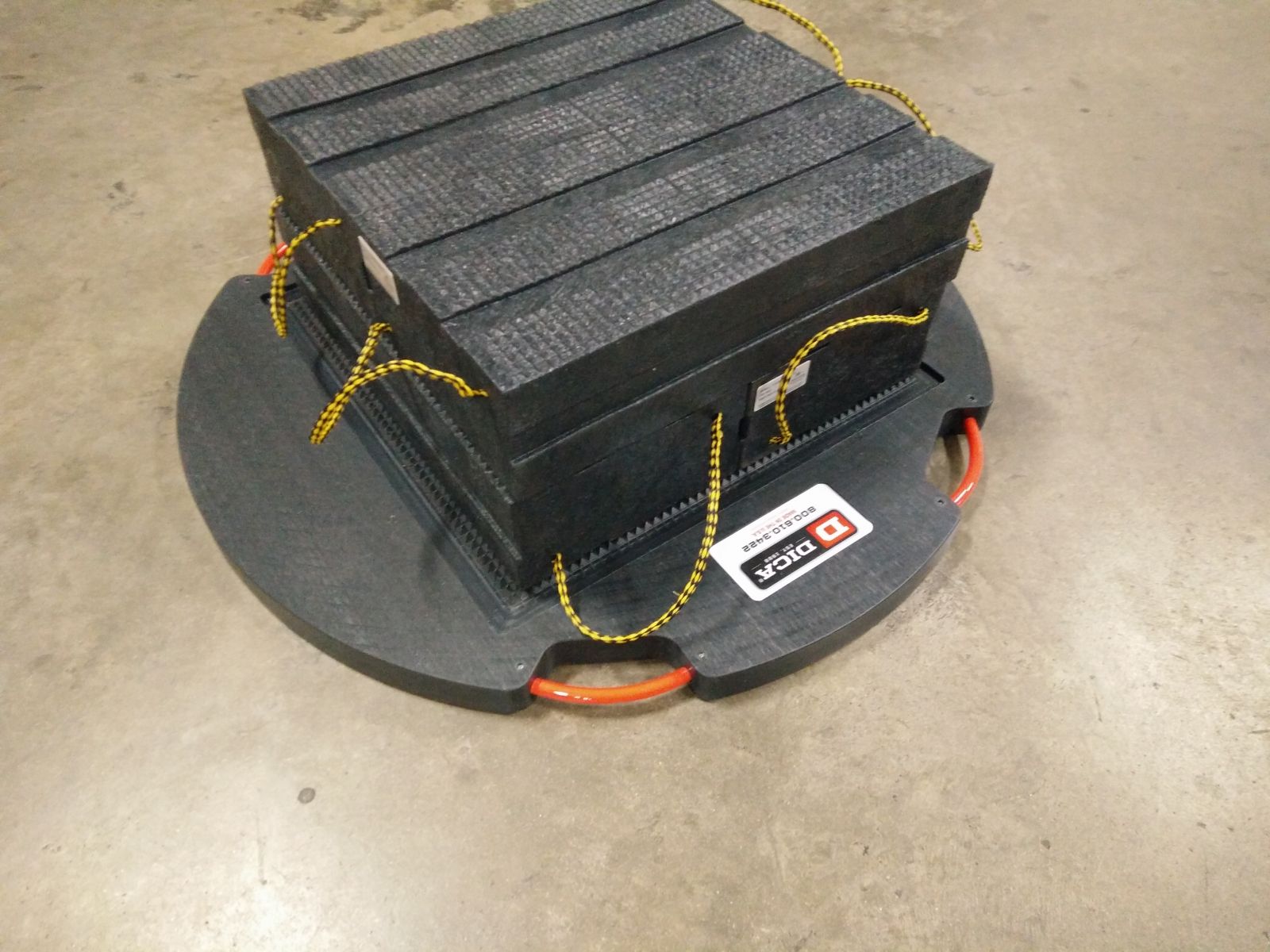 DICA has introduced the ProStack cribbing product,which has been developed with an interlocking design that safely provides additional height under outrigger floats when setting up in uneven ground conditions.
ProStack Cribbing has three basic parts: a base outrigger pad, interlocking cribbing blocks and a high friction top grip pad. The base ProStack Outrigger Pad is manufactured with a pyramid-shaped surface that interlocks with the cribbing blocks. On top of the base pad, operators stack layers of two 6"x12"x24" cribbing blocks with the pyramid-shape surface, that lock into the base pad. Lastly, a ProStack Grip Pad is placed on top of the stack to protect the pyramid surface on the cribbing blocks and provide a high friction surface for the outrigger foot.
"ProStack is designed to provide height for operators in environments where there are significant changes in grade. It is designed to be used under boom trucks, digger derricks, and aerial bucket trucks, or any equipment with outrigger loads that do not exceed 110,000 lbs.," says Kris Koberg, CEO. "Typically, an operator's only jobsite options are stacking timbers or some sort of wood that they can find on site to provide height. Wood has its own inherent set of issues, besides the fact that it doesn't interlock, which can lead to the cribbing slipping and causing a significant problem. ProStack cribbing solves this problem in an engineered and dependable way."
The ProStack product line boasts benefits that are hallmarks of DICA products: Strong and ergonomic, impervious to environmental conditions, and manufactured from quality engineered materials.
"ProStack cribbing locks together to create a more secure set-up under the outrigger foot" says Koberg. "The more load you exert on the set-up the more it locks together,and the more it locks together the safer your setup."
ProStack will be available in three Cribbing Kit Options that include either a DR36-2, DR42-2 and DR48-2 base outrigger pad, along with four cribbing blocks and one grip pad. ProStack individual parts will also be available for purchase.
DICA also introduced new Heavy Duty models for its FiberMax crane pad product line. The five new models of HD FiberMax crane pads fill a gap between the 175,000 lb. and 325,000 lb. rated capacity models.
The smallest in the series is the FM6x4x6-HD, providing 24 sq. ft. area and a maximum rated capacity of 250,000 lbs. The largest in the series is the FM8x6x6-HD, providing 48 sq. ft. area and a maximum rated capacity of 250,000 lbs. All HD models boast crush ratings of 600 psi. Mid-size model FM7x5x6-HD is available as an in-stock item, ready for rapid delivery.
"The heavy-duty rating was achieved by increasing the overall thickness of the top surface layer which makes the pads stronger and stiffer, giving us the ability to support and distribute higher outrigger loads with an overall thinner and lighter solution. The thickness of the HD pads is only 6.75" and overall weight of the HD pads is still far lighter than steel crane pads," said Koberg. "FiberMax HD crane pads achieve steel crane pad performance characteristics at weight savings up to 70%, lowering overall transportation costs for users. Lower transportation costs equal lower total cost of ownership benefits. These pads have the potential to pay for themselves in your first year of use."
Updated Frames and Corner Cribbing
FiberMax crane pads now feature standard Hi-Viz orange frames. "The yellow crane pads with orange frames really stand out on the jobsite, contributing to an atmosphere of safety," said Kris Koberg. Our C-channel frames are made of lightweight steel, which keeps the overall weight low while protecting the pad's interior for use in rugged construction applications.
Corner Cribbing bars eliminate the need for operators to place temporary cribbing between each crane pad when stacking them for storage and using forklifts to move them. By upsizing the bars to 2×2 inches over the previous 1×1 inch dimension, it is now easier for forklifts to quickly and easily lift the crane pads, thereby eliminating pinch hazards between stacked mats. The Corner Cribbing option can be added to any non-HD FiberMax crane pad model.