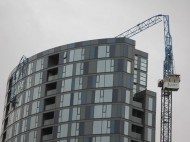 A tower crane jib snapped at the site of a 20-storey tower block in Croydon during severe storms over the weekend.
The London Fire Brigade said: "The high rise building on Wellesley Road is under construction and the crane's jib is believed to have snapped.
"A safety cordon was put in place and specialist crane engineers were called to secure the structure. There were no reports of any injuries."
The unfinished tower block was formerly known as the IYLO building.
Work restarted on the tower last year after construction stopped in June 2011 when the previous investors ran into financial diffulties.
The site has now been renamed the Island and is being developed by Regency Homes.
The collapsed crane is a Jost model.