CR Holland Crane Service, based in Forest City, Iowa, was commended Friday by the National Commission for the Certification of Crane Operators (NCCCO) as having demonstrated its commitment to safety by hiring CCO-certified personnel. By participating in NCCCO's Committed to Crane Safety programs CR Holland Crane Service demonstrates that it strives for excellence in its hiring and training efforts and works hard to earn, maintain, and protect its safety reputation in the industry.
Crane operators, signalpersons and riggers receive recognition for their knowledge and skill related to safe crane operations when they are issued a CCO certification. CR Holland Crane Service, has expended time, effort, and resources to obtain certification for its crane operators and riggers and NCCCO recognizes this commitment to safety through its Committed to Crane Safety programs.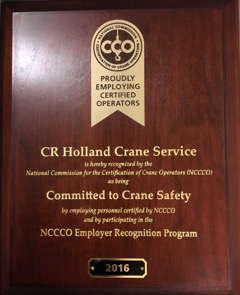 "NCCCO's Committed to Crane Safety program is a means for safety-conscious employers such as CR Holland Crane Service to show their clients, potential clients, and employees that they are serious about crane safety and that they have taken proactive steps to ensure that their employees have the knowledge and skills to perform their assigned job duties safely," said NCCCO Executive Director Graham Brent. "NCCCO is delighted to welcome CR Holland Crane Service into this pre-eminent group of companies who have distinguished themselves in their dedication to crane safety through their commitment to professional training and CCO certification," he said.
To qualify for the Committed to Crane Safety programs, CR Holland Crane Service was required to demonstrate its commitment by providing information about its crane safety policies such as the percentage and/or number of operators and other workers who are CCO-certified, a copy of its hiring policy regarding CCO certification, and the number of years the policy has been in place. CR Holland Crane Service's recognition is valid for one year after which an opportunity for renewal is provided.