Coast Crane Company, a subsidiary of Essex Rental Corp., has placed an order with Tadano America Corporation for twelve cranes, including two 160 ton capacity GR-1600XL-2 rough terrain cranes. The GR1600XL-2 is the world's largest rough terrain crane featuring 200 feet of 6-section boom and an on board tip height of 269 feet on a low profile and maneuverable 3-axle carrier. Its modular design enables quick and easy transport between sites.
160 ton capacity Tadano GR-1600XL-2 Rough Terrain Crane (Photo: Business Wire)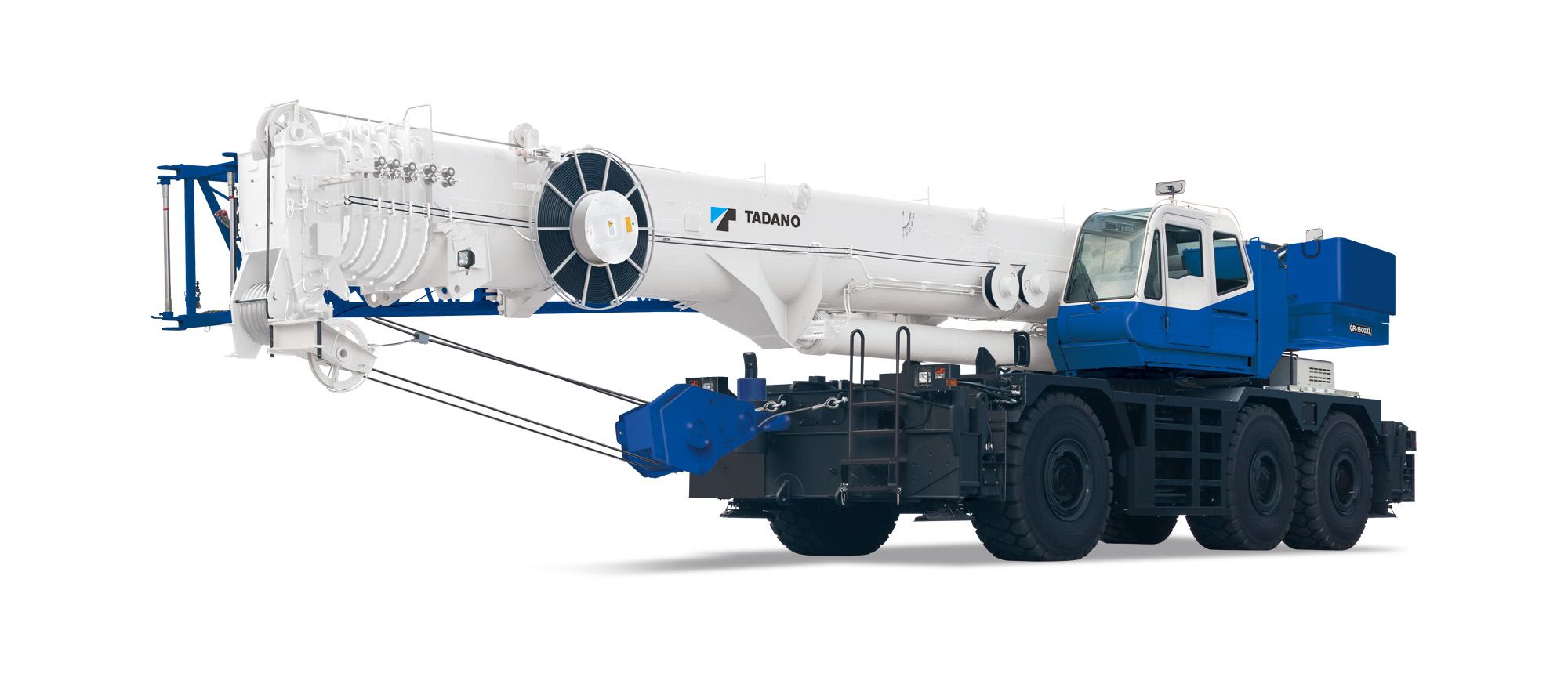 The order also contains various rough terrain crane models from Tadano's full line, including the GR-150XL-1, GR-350XL-2, GR-550XL-2, GR-750XL-2 and GR-1000XL-2 models, along with 130 ton capacity Mantis GTC-1200 telescopic boom crawler cranes.
Nick Matthews, President & CEO of Essex Rental Corp. stated, "Our decision to make this purchase was driven by our customers' growing recognition of Tadano's unsurpassed quality within our rental fleet and retail distribution business. We are very excited to continue the strong partnership we have enjoyed over the last ten years with Tadano America Corporation."
About Essex Rental Corp.
Essex, through its subsidiaries, Essex Crane and Coast Crane, is one of North America's largest providers of rental and distribution for mobile cranes (including lattice-boom crawler cranes, truck cranes and rough terrain cranes), self-erecting cranes, stationary tower cranes, elevators and hoists, and other lifting equipment used in a wide array of construction projects. In addition, the Company provides product support including installation, maintenance, repair, and parts and services for equipment provided and other equipment used by its construction industry customers. With a fleet consisting primarily of cranes, as well as, other construction equipment and unparalleled customer service and support, Essex supplies a wide variety of innovative lifting solutions for construction projects related to power generation, petro-chemical, refineries, water treatment and purification, bridges, highways, hospitals, shipbuilding, offshore oil fabrication and industrial plants, and commercial and residential construction.
Photos/Multimedia Gallery Available: http://www.businesswire.com/multimedia/home/20140325006299/en/
 
    CONTACT: Essex Rental Corp.
Jason Walton, Marketing Manager, 847-215-6518
 
    SOURCE: Essex Rental Corp. 
Copyright Business Wire 2014
Access Investor Kit for Essex Rental Corp.
Visit http://www.companyspotlight.com/partner?cp_code=A591&isin=US2971871064