UK crane rental company King Lifting has taken delivery of two new Liebherr LTM1060-3.1 All Terrain cranes – the first two Liebherr cranes to enter its fleet.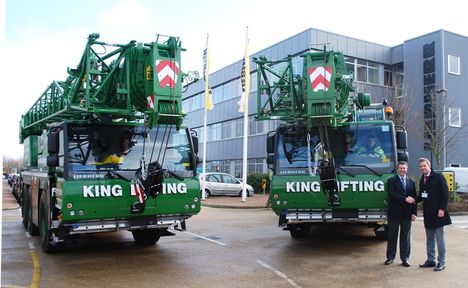 The 60 tonne capacity three axle cranes have a lift height of 63 metres and a lift radius of 48 metres. The cranes have six wheel steering and drive and a flexible ballast configuration system.
Director Tristan King said: "We are excited by the delivery of the new Liebherr cranes, which will compliment our existing fleet and help us grow the service and flexibility we can offer our customers. The engineering and build quality of the Liebherr products is something that has continually impressed us as we looked at their cranes. In fact we have been so pleased with the operation of these two mobile cranes that we have recently placed an order for three more."
Richard Everist, managing director of Liebherr Great Britain and Ireland said: "It is a great pleasure working with King Lifting and introducing them to Liebherr products and services. These two LTM 1060 3.1 cranes will soon be followed by the LTM1300 crane they have on order, which will further enhance their fleet. I wish King Lifting every success as they grow their business."
King Lifting is a family run business offering coverage across the UK through its eight regional depots.