It took more than $50,000, a small team of workers, three hours, two flatbed trucks and one monstrous crane to move a 60,000-pound rail tanker from one location approximately 100 yards away to another.
Officials at the Chemeketa Brooks Regional Training Center relocated the massive rail tanker on Friday from its original position, wedged between two buildings, to a more spacious one further on campus. Its new location is better suited for the tanker to be used in safety exercises for the facility's students.
The training center is a satellite location of Chemeketa Community College and houses training and classes for its law enforcement, fire training and paramedic programs. Both students and fire and law enforcement professionals use the location as a training site, where they can recreate everything from structure fires to hazardous spills.
"This tanker was put there in order to create construction space; to keep it out of the way," said Greg Harris, dean of public information, marketing and student recruitment. "But it's useless for training. Now students will be able to use it for fire, hazardous materials and train derailment training."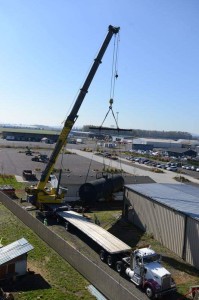 The rail tanker was given to Chemeketa by Union Pacific ten years ago. But officials needed it out of the way so they could start construction on a new building for the facility.
"Now we're in the process of resetting all of our props, including the burn tower and arson props," said Rob McCorckle, dean of Chemeketa's Life Safety program. "This will be part of the final placement. We've been saving up for this move."
The tanker was lifted Friday after hours of preparation of the enormous crane, supplied by Interstate Crane Rental in Salem. Slowly, workers guided it through the air and away from its two neighboring buildings to come to rest on a flatbed truck.
Its new location on campus is near the other training simulations. The tanker will be set up to mimic a real loading station, propane tank included. Students can work through real fires and liquid leaks to prepare for real-life emergency situations.
"That's where almost all problems occur, is in the loading process," McCorckle said. "We set it up specifically to be as realistic as it can be. We use propane tanks and we'll run lines under the car and light them on fire.
"Being able to go defensive on propane tanks is hard," he added. "The explosion? It can take a house out."
[email protected], (503) 399-6709 or follow @fosmirel