Eighteen Terex cranes are working on the fourth and final phase of the Copenhagen Metro. The €1.7bn Cityringen – or City Circle Line – represents one of the biggest construction projects currently underway in Denmark.
The 16km underground line will feature a total of 17 stations, and is expected to carry approximately 275,000 passengers every day. Initially, the flat-top tower cranes will be used to remove excavated tunnel material. Once this task has been completed, they will lift in concrete and other materials for new construction.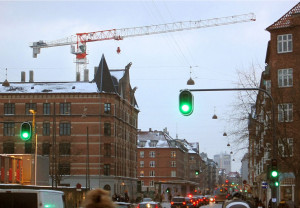 When it was opened in 2002, the Copenhagen Metro was the first fully automated, driverless metro in the world. In light of its initial success, the decision was taken in 2005 to expand the system to include Cityringen.
When the new line is completed in 2018, it will increase the total number of Metro stations to 37, and help to tie together the different neighbourhoods of Copenhagen. Moreover, 85 per cent of all homes, workplaces and educational institutions in the inner city and its surrounding neighbourhoods will be less than a ten-minute walk from a Metro or train station.
The Copenhagen Metro Team (CMT) purchased 18 Terex CTT 231 tower cranes with maximum lift capacities of 12 tonnes and a variety of under-hook heights and jib lengths. As part of the manufacturer's 'Full Terex Package', CMT will receive ongoing support throughout the course of the project.
"This is a complex contract made more difficult because of the situation in the centre of Copenhagen," said CMT project manager Eliseo Marsiglio. "These CTT tower cranes are designed for working on confined sites and have very good lift capacities – it is early days, but at the moment we are very pleased with the investment."