January 16, 2014–This month, ALL Erection & Crane Rental Corp. announced the purchase of a Terex crane package that will add 10 of the new Terex RT 231, a 30-USt rough-terrain crane, to its industry-leading sales and rental fleet. The new cranes are earmarked for branches in Ohio, Michigan, Pennsylvania, West Virginia, and Wisconsin where ALL Erection & Crane Rental has exclusive dealer territory responsibility. The units are available for immediate sale, but will be added to rental equipment rosters based on local and regional demand.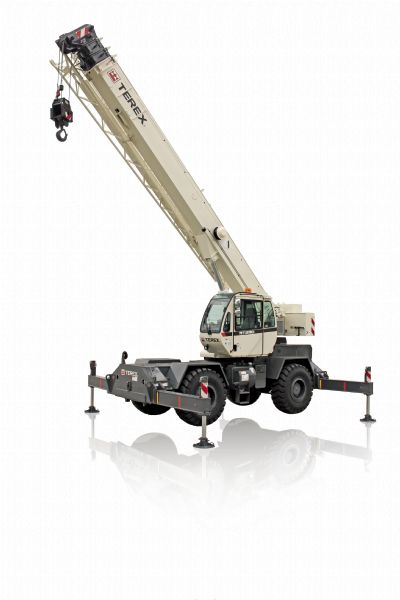 Designed to be both compact and rugged, yet with a comfortable and ergonomic cab and intuitive, single-lever dual axis controls, the RT 231 is versatile, easy to use, and comfortable to work for long hours. The RT 231 offers excellent boom tip height (94 ft / 28.7 m) and features a side-stowed 26-ft (7.9m) to 43-ft (13.1-m) lattice jib and an offset of 0/15/30 degrees. The overhaul ball with hook latch is 7 USt (6.4 mt).
As a hand picked tier-one dealer of Terex equipment, ALL is pleased to be able to offer its customers the ability to exactly match need to machine, along with providing set-up and training to enhance customer productivity. ALL has the skill and experience to provide after-sale service with responsive parts delivery and field service designed to maximize lifetime return on investment.
"We are very pleased to offer Terex products," says Michael Liptak, president of ALL Erection & Crane Rental Corp. "This unit is particularly well suited for construction; drill rig placement; refinery work, including maintenance; steel erection; and bridge work."
About ALL
Since 1964, the ALL Family of Companies has grown to become one of the largest crane and equipment rental companies in North America. The company offers its fleet of cranes, aerial work platforms, boom trucks, material handlers, and other lift equipment from strategic locations, providing rental, sales, service, and jobsite analysis to help customers get the right equipment for the job. An important measure of their commitment is meeting or exceeding all pertinent regulatory and safety standards. For more information, contact ALL Erection & Crane Rental Corp., 4700 Acorn Drive, Independence, OH 44131. Phone: 216-524-6550. Toll free: 800-232-4100. Fax: 216-642-7633. On the Web: www.allcrane.com.