A workman was taken to hospital with head injuries after a crane 'snapped in half' on a housing development by London's Docklands this afternoon.
The man, who police said is in his 30s, also suffered lacerations when the crane on the Providence Tower site partially fell shortly before 5pm.
Crews from the London Ambulance Service were called to Fairmont Avenue and took the man 'as a priority' to the Royal London Hospital.
Police await an update on his condition but he was conscious and breathing immediately after the incident, Scotland Yard said.
Roads around the development were closed for a short time while emergency crews were at the scene.
People were also forced to evacuate a nearby restaurant as a safety precaution.
Freelance journalist Josh Layton was parking in a nearby street when he saw ambulances arrive.
Posting a picture of the crane on Twitter, he wrote: "Crane looks as though it has snapped in half."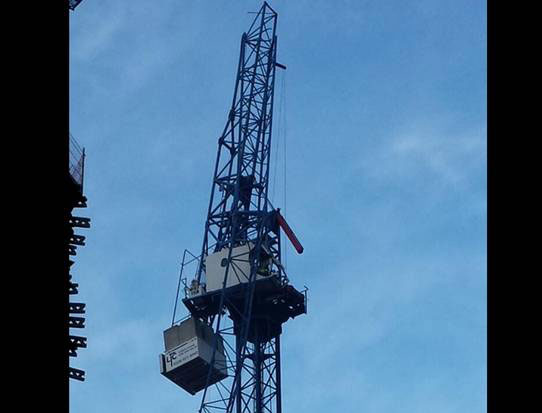 He later told the Standard: "I was just pulling up in my car in a side street and about five minutes later a load of ambulances turned up.
"Everyone was quite confused at first. I don't think people in the area really knew what was going on.
"People looked up and saw that the arm of the crane had been sheared off.
"Clearly [the workman] was very lucky to survive. It could have been worse."
The 43-storey skyscraper, which is due to be completed by December 2015, is being built by Balfour Beatty.
A Met police spokesman said the incident had been referred to the Health and Safety Executive, the public body which regulates workplace safety.
A spokeswoman for Balfour Beatty said: "We can confirm an incident took place this afternoon involving a tower crane on our Providence Tower construction site. This incident resulted in a member of the project team being taken to hospital.
"The HSE has been informed and we have undertaken preliminary investigations into the incident.
"It would be inappropriate to comment further at this time."