The $210 million CDN Bridgewater Residences on the Lake will offer million dollar views of Lake Ontario once the mixed-used living center opens in Burlington, Ontario. Built on less than two acres, the complex will feature three buildings consisting of luxury condos, hotel, shops and restaurants. Permanent residents will live in the 22-story structure and secondary 7-story building, while the development's 8.5-story final structure will include a four-star hotel, restaurants, and retail outlets.
The nearly three-year project will require multiple contractors working together to finish all phases of construction. MTN Forming, Inc. of Bolton, Ontario, is tasked with completing structural formwork. Throughout the project, a variety of cranes will be employed to erect the buildings. However, a majority of the day-to-day lifting will be left to two cranes towering over the worksite for approximately two years.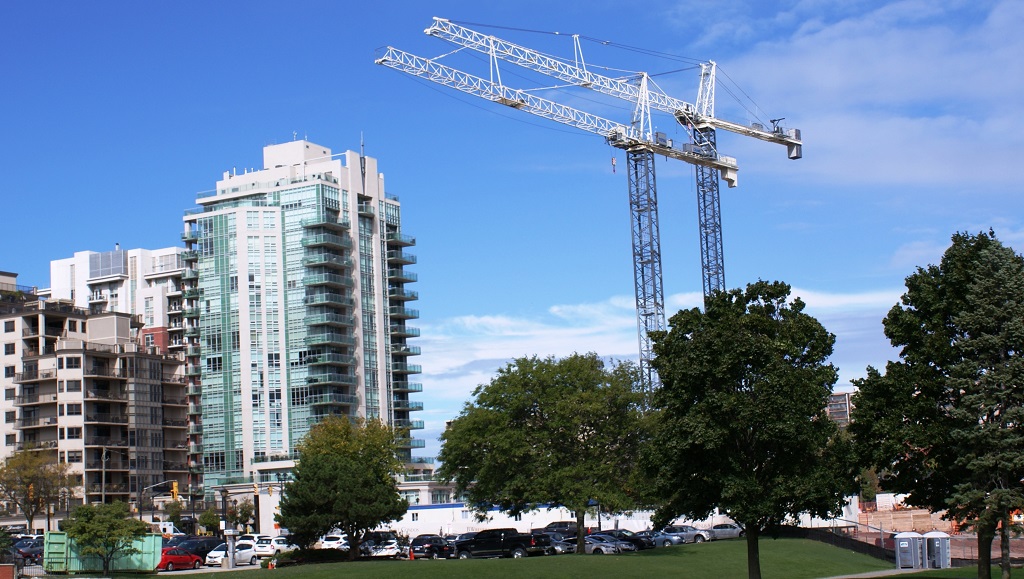 MTN Forming relied on the expertise of Cropac Equipment Company and C&C Crane Services of Oakville, Ontario, to supply the right type of tower crane equipment, strategically positioned to efficiently serve all the company's lifting needs. "We had just under two acres to cover, and we had to lift a variety of materials, including precast steel reinforced with core slab," mentions Kevin Carey, Owner of C&C Crane Services. "The heaviest planned lift was 20,000 lb (9,1 tonnes) at a 164-ft (50,0-m) radius."
In addition to what was lifted, the crane providers also had to consider ambient factors for selecting the best type of cranes for the job. "While being on the lake provides spectacular views for residents, we had to account for the high lakeside winds, lake-affect snow and extreme cold for the project," says Joel Hunt, sales representative for Cropac Equipment, Inc. "Freestanding heights came into play for the project to reduce set-up time and cost, and we chose the cranes that gave us the highest freestanding height capability."
When considering all factors – reach, capacity, freestanding height and reliability – Cropac and C&C Crane selected a combination of two Terex hammerhead tower crane models, the Terex SK 315 and SK 415. The SK 315 crane offers an 8.8- to 17.6-US ton (8- to 16-tonne) capacity, while the larger SK 415 crane provides a maximum lift capacity of 22 US tons (20 tonnes). "The SK 415 gives us the lift capacity of 20,503 lb (9,3 tonnes) at the 164-ft (50,0-m) radius we needed on this project," says Carey.
Cropac delivered the two cranes to the jobsite in September of 2016, and a crew of six workers from C&C Crane and Total Crane Rental, Bolton, Ontario, erected the two units on-site. To assist in tower assembly, crew members used a Terex AC 250-1 all terrain crane. The 300-US ton (250-tonne) capacity class mobile crane features a long 229.7-ft (70-m) main boom length, which allowed crew members to quickly install the tower and jib sections for both cranes.
Each of the heavy-duty tower sections for both cranes measured 7.8 ft wide by 8 ft high by 19.5 ft long (2,4 m by 2,4 m by 5,9 m). The shorter SK 315 crane was built with 9 tower sections under the 131.3-ft (40-m) long jib for a total freestanding height of 178.8 ft (54.5 m). For the first phase of building construction, the SK 415 crane was built with 11 tower segments to a height of 214.9 ft (65.5 m) to clear the SK 315 crane when working at radius, and it included a 164-ft (50,0-m) jib.
"Due to the sturdy construction of the tower segments," says Hunt, "we were able to maximize freestanding height at the beginning of the construction cycle to expedite initial crane set-up." Carey adds, "Since the cranes didn't have to be tied back, the crew had each crane erected and working within an 8-hour workday, which saved time on the job."
As work advances on the 22-story structure, another 5 tower sections with tie-back to the structure will be added to the SK 415 crane for a total hook height of 312.4 ft (95.2 m). "C&C Crane did an excellent job in planning the best placement of each crane to optimize efficiency for covering the entire work area with the two cranes.
Work on the $210 million complex is quickly progressing with the formwork shell beginning to reach toward the sky. The two Terex tower cranes are proving their worth, working in all kinds of weather conditions – sun, rain and snow – to help make sure workers have the tools they need to keep on schedule. We selected these cranes because of their reliability, low-maintenance history and service," comments Carey. "Both the SK 315 and SK 415 have excellent proven track records in all aspects, especially lifting performance and operator satisfaction."
Originally posted on Crane Hotline