About 175 workers are losing their jobs with the closure of the Terex crane plant in the northeast Iowa city of Waverly.
The company announced Tuesday that it is moving production of cranes and boom trucks to its Oklahoma City plant, where it has made multimillion-dollar upgrades to handle the new load.
About 100 Iowa workers lost their jobs immediately. The remaining 75 jobs will be phased out. Terex says it will keep its accounting offices in Waverly, which employs 100 people.
Waverly City Administrator James Bronner says state and local economic development resources will aid the displaced workers and their families. The Iowa Economic Development Authority and Iowa Workforce Development have been notified of the closure.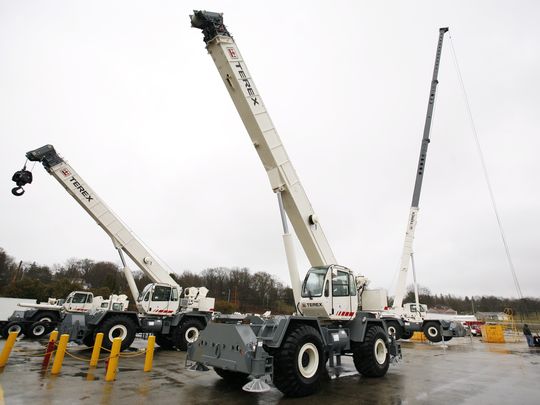 Bronner told the Waterloo-Cedar Falls Courier that he was informed by longtime Terex executive Dave Stevenson about the closure. Bronner said he asked if there was anything the city could have done to prevent the situation.
"He said, 'No, not really.' It was the oil prices and the construction industry being down. He said the decision was made at the corporate offices," according to Bronner.
The company says the Waverly operation was established in 1941 by brothers Vern and Wilbur Schield. The operation became part of Terex Corp. in 1987.
Terex Corporate said in a statement that "moving Waverly product lines to our Oklahoma City location is consistent with our continuing strategy to win the market place by aligning our costs with market demands."
KCRG-TV reports that the company cited costs as the reason to consolidate its operations in Oklahoma City and that it is centrally located to optimize the transportation of raw materials and finished products.