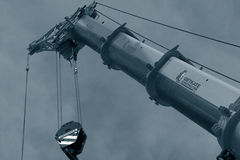 A new report form specialist consultant Off-Highway Research looks in-depth at the market for wheeled and tracked cranes in Germany.
During the last four years the market has stabilised between 420 and 450 unit sales per year, the vast majority of which are all terrain cranes.  This followed the low point in 2011, when sales bottomed-out following the global financial crisis.
Although Germany has found some stability in the last five to six years, sales of cranes remain low in historical terms.  The pre-crisis boom saw the market peak at 650 units in 2007, and the previous cyclical high was in 1999 – the height of the post reunification boom as far as this sector was concerned – at some 700 units. So while the German mobile crane market has bounced back from the crisis years, it is arguably below its potential, and has shown little growth for the past four years.
Off-Highway Research's forecast for the sector is for some growth in 2017 and 2018, as economic conditions improve marginally in Germany. However, with no economic boom on the horizon, the outlook is for a fairly flat mobile crane market.
The report also looks at crane production in Germany, one of the most significant crane manufacturing countries in the world, due to its dominance of the all terrain crane segment.
"The strength of German crane manufacturing, and the alignment of the machines produced with customer requirements means there is virtually no room in the market for importers.  Occasionally cranes made outside Germany are sold in the country, the main opportunity being for lower capacity crawler cranes," said the report.
Click here for more information about the report.