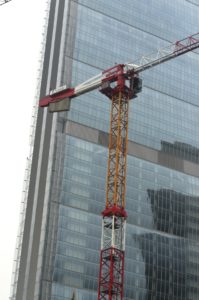 Two Potain MDT 308 cranes have been chosen for the Libeskind Tower, which is set to rise 175 metres. The Libeskind Tower, together with the Hadid Tower and the Isozaki Tower, will be at the core of the new CityLife Milano development, just outside the old city center of Milan.
The MDT 308 A cranes were previously used to complete the neighboring Hadid Tower, and with that project complete, have moved to the Libeskind Tower. Once finished, the Libeskind Tower will have 76,000 m2 of floor space and house around 10,000 people. It will include an art museum and a retail area, while also linking directly to the city's metro line.
The Potain cranes belong to main contractor CMB (Cooperativa Muratori E Braccianti Di Carpi), which worked with local Manitowoc dealer Baccarani Macchine Edili to purchase them. The first unit for the Libeskind Tower was erected in July, while the second one will be erected in December. Both are expected to remain on the site for 24 months.
The MDT 308 A cranes can offer a maximum jib length of 70 m and a maximum lifting capacity of 12 tonnes. For the work on the Libeskind Tower the first crane is currently working with its full jib of 70 m. However, once the second crane is erected in December, both cranes will be configured with 55 m of jib. The cranes will eventually reach working heights of 200 m.
Sabino Riefoli, export sales and key account manager for Manitowoc in Italy, said, "The tower's design is curved from bottom to top, so it was a challenge to engineer the anchorage points that will connect the crane to the structure as it rises. Furthermore, for a building of this height and scale, we have to ensure the anchoring is done with extreme precision."
The Potain MDT 308 A units include an inbuilt on-board computer that provides information on operating times for the hoist, trolley winches and slewing mechanism, plus the number of brake applications for those mechanisms. This computer plays a useful role in preventative maintenance, which is especially important in high-rise applications where accessibility can be a challenge.
Also included is the Top Tracing II technology which limits working areas for the cranes, ensuring more efficient operation and eliminating potential interference.