By Conrad Prabhu — MUSCAT — Port of Duqm undertook its first ship-to-ship transfer in a further demonstration of its capabilities as Oman's newest maritime gateway. A shipment of soya bean meal was successfully transferred from the bulk carrier, MV Sila, to another commercial vessel, MV Ocean Fortune', in a well-coordinated and seamless exercise that underscored the port's ability to undertake even challenging commercial operations of this nature. "We are heartened by the flawless execution of this operation, credit for which goes not only to our competent shore staff, but also to some excellent coordination by the local representatives of the ships in question. This exercise further showcases the port's abilities to carry out a variety of cargo loading and unloading operations, among other commercial activities, although we are still technically in the 'early phase operations' stage," said Rien Van de Ven, CEO, Port of Duqm.
A total of 6,202 metric tons of soya bean meal was transferred from the mother vessel, MV Sila, to the so-called 'daughter vessel', MV Ocean Fortune, during a roughly three-day operation over the weekend. Deploying a pair of modern shore cranes and a newly acquired grabs, the port's well-trained, all-Omani shore staff moved the cargo from three of the hatches of the mother ship to a similar number of hatches of the daughter vessel.  Both vessels were double banked to allow for the smooth completion of the transfer. The challenge to move the cargo from one vessel to another was significant as the MV Sila, being essentially a 'dead' vessel, was unable to move any of the obstacles for this operation. With MV Sila scheduled for a brief dry docking spell at the adjoining ship repair yard of Oman Dry-dock Company (ODC), a transfer of its cargo to a small bulk carrier at Duqm itself became inevitable.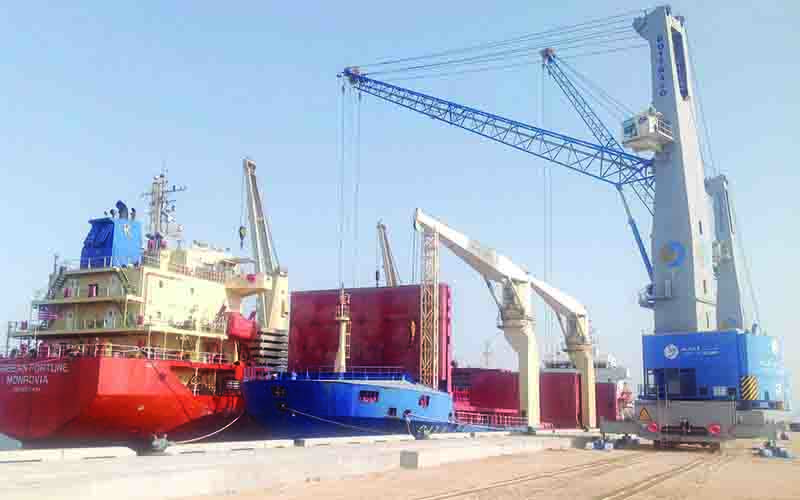 A recent ramp-up of its vessel and cargo handling capabilities made Duqm is a logical and competitive choice of venue for this transfer to take place, say authorities. The daughter vessel, which had steamed in from Myanmar, is now destined for a Greek port on the next leg of its voyage.  Support provided by the Ocean Fortune's local shipping agents, Inchcape Shipping Services, was also key to the overall success of Port of Duqm's maiden ship-to-ship transfer, the official added. Since the launch of its early operations phase, Port of Duqm has been attracting a steady flow of ships to the newly built multipurpose port.  Given its proximity to the oil and gas fields of central Oman and enhanced road connectivity to key project sites, Duqm is now emerging as a key gateway for project cargo destined for locations across the southern half of Oman.
Over the coming months, the Special Economic Zone Authority of Duqm (SEZAD) plans to float a series of tenders for the construction of berths and other infrastructure designed to eventually bring into operation dedicated terminals for the handling of container, bulk and break-bulk, as well as liquid cargoes.  (OEPPA Business Development Dept)