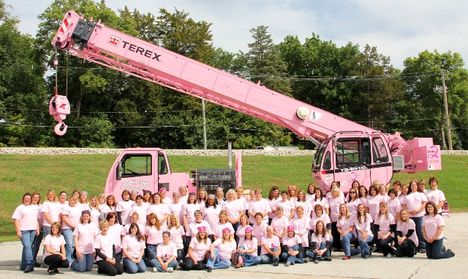 Atlanta based crane rental company Phoenix Crane Rental has taken delivery of a 40 ton Terex T340-1 telescopic truck crane painted pink to raise awareness of breast cancer and to help support its research.
The cranes first 'job' was being on display at a two-day Walk for Breast Cancer, held in Atlanta by the non-profit group 'It's The Journey'. As part of its commitment to the group Phoenix plans to donate a portion of the hourly rental revenues from the crane to the organisation.
Mike Phillips, president of Phoenix Crane, said: "Over the years, we have contributed regularly to a variety of charities but have not been involved with any particular cause with passion, until now. Looking at the two day Atlanta Walk for Breast Cancer, which is also a local organisation, we feel we have found our partner and our passion, and we appreciate Terex supporting us by donating the special paint job."
Steve Ake, regional business manager for Terex Cranes, said: "This is the second Terex T 340-1 crane that Phoenix Crane has painted in this distinct pink color. We are honored that they have chosen a Terex model from their fleet to support such a worthy cause and are happy to donate this special paint and decal scheme."
Established in 1983, Georgia-based Phoenix Crane Rental is a family run business and has a fleet of 70 cranes, topped by a 250 tonne truck crane. The company now has two pink cranes in its fleet which donate a percentage of the hourly rental revenue to the It's The Journey organisation.