Manitowoc-manufactured Potain cranes have been showcased by the brand's new Belgian distributor NEREMAT at Matexpo 2013 in Kortrijk.
Established in 1985, NEREMAT specialises in the sale, rental and service of tower cranes. The company is now the official and exclusive distribution partner in Belgium for Potain top-slewing tower cranes.
NEREMAT displayed a Potain MDT 218 top-slewing tower crane on its Matexpo stand. Also at the event was Manitowoc's long-standing partner Belgium Lifting & Equipment (BLE). BLE showcased a selection of Grove all-terrain and rough-terrain cranes, in addition to four self-erecting Potain cranes. Its largest exhibit, however, was the new 1.8-tonne-capacity Igo M 14.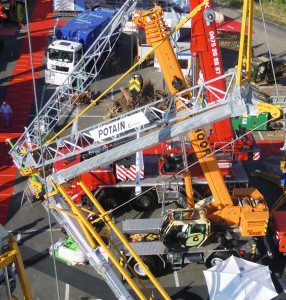 "The Igo M 14 offers class-leading lift height and one of the easiest setup procedures in the industry," said BLE general manager Paul Spaepen. "Many people were impressed with the crane and we are confident that it will be a popular addition to Potain's self-erecting range."
As Manitowoc's latest distributor in the region, NEREMAT will further develop Potain's Belgian presence through crane rental, distribution and service.
"BLE and NEREMAT have the experience and expertise to deliver first-class sales and service to customers throughout Belgium and the local region," explained Manitowoc's VP for sales in Western Europe Christophe Simoncelli. "Both are highly regarded brands and we are confident that they will help to expand our regional presence even further."
Now that Matexpo has drawn to a close for another year, almost all of the Manitowoc cranes that were on display are being transported to jobsites and customers in the Benelux region. One notable exception, however, is the Igo M 14, which is to continue on its trade-show tour for a while longer.