Visitors at last week's ConExpo 2017 were the first in North America to check out the showcase of Manitowoc's new self-erecting crane and sky high tower cranes.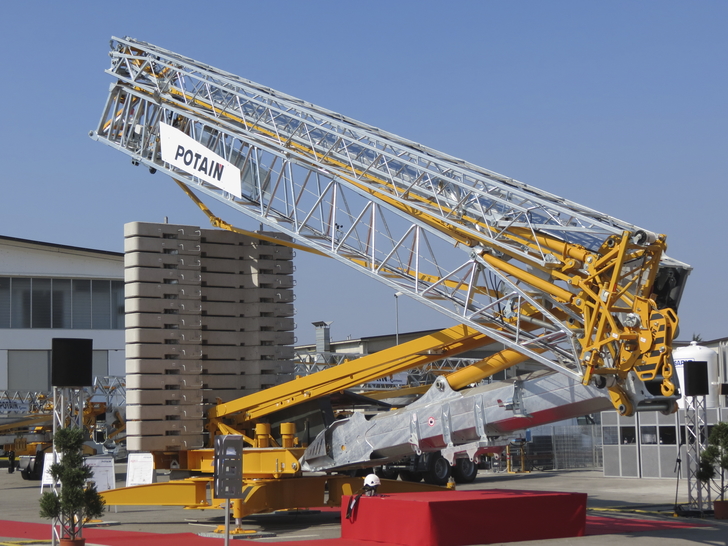 The big reveal included the Hup 40-30, which was first previewed as a prototype at Bauma 2016 in Munich Germany, shines in both versatility and agility, with several configuration options, a high-performance slewing radius and the best transport package ever designed for a self-erecting crane. Its launch follows the introduction of the Hup 32-27 in mid-2016, and it becomes the second model in the innovative new Hup range.
Jean-Pierre Zaffiro, global product director for Potain self-erecting cranes at Manitowoc, said the Hup 40-30 represents a profound transformation in self-erecting crane technology.
The Hup 40-30 has a 131 foot jib and boasts 16 configurations, which are unique to this category of self-erecting cranes, enabling it to be easily adapted for a range of job site applications. The crane has a maximum capacity of 4.4 USt, and it can lift 1.1 USt at its jib end.
The launch of the new Hup 40-30 in North America is significant, as companies in the region are discovering that self-erecting cranes are ideal alternatives to other lifting solutions on many job sites. For example, self-erecting cranes are easy to fit onto most job sites, don't require extensive ground preparation and don't damage job site terrain.
"The use of self-erecting cranes is growing in the region because there are several advantages to using these compact and versatile cranes," Zaffiro said. "Often companies save significant money when using them on a long-term project. And because the new Hup cranes are very versatile, customers can handle a wide range of projects with just one crane. We fully expect the use of the cranes to continue growing in North America."
Also on display was Manitowoc's Potain MD 559 tower crane. The 22 USt crane represents Potain's MD CCS range, which has the highest capacities of all its top-slewing, trolleying tower cranes.
Potain's MD CCS range cranes are ideal for jobs that require strong load charts and long working schedules. The cranes, which include the MD 509, MD 559, MD 569, and the MD 679, are all equipped with CCS, which simplifies training, operating and maintenance functions across Manitowoc's crane brands.
"As with the entire MD CCS range, the MD 559 is particularly advantageous for North American markets as it provides high performances for heavy loads, high productivity with its powerful hoisting winch, and the use of the K800 masts, which are already very popular in the region," said François Rotat, product manager at Manitowoc.
The MD 559 crane is easy to assemble at a free-standing height of 267.4 foot with the K800 mast system. Additionally, it provides increased job site productivity with its powerful 270/320 LVF hoisting winch that offers impressive speeds of up to 197 feet per minute for a 22 USt load; 367 feet per minute for a 11 USt load and 531 feet per minute for a 6.4 USt load.
A permanent, two-fall rope configuration provides a maximum load of 22 USt; and the crane offers a maximum tip load of 5.1 USt when used with a 262 foot jib. The crane is ideal for high-rise building and bridge construction, as well as any other jobs that require lifting heavy loads, quick line speeds and long reach.
In addition, the MDT 219 was also shown, giving customers the opportunity to see features first-hand. The Potain MDT 219 has the highest capacity of all models in the MDT CCS City tower crane range, making it ideal for North American construction, where buildings are increasingly becoming taller and more complex.
One of the crane's most notable features is Manitowoc's exclusive Crane Control System (CCS), a user-friendly interface with graphic displays, ergonomic controls and a jog dial for improved navigation and data input. In fact, as the name suggests, the entire MDT CCS City tower crane range carries the system, which shares parts commonality across Grove, Manitowoc and Potain lines to increase operator familiarization and serviceability.
The system also features a remote diagnostic function, CraneSTAR Diag, that allows technicians to monitor the crane from anywhere in the world in real time. It also features Potain's premium Ultraview Cab that enhances driver ergonomics and comfort, and provides more precise crane control.