GALLATIN, Tenn. (AP) – The U.S. Occupational Safety and Health Administration has fined a Nashville contractor more than $60,000, citing the company with willful and serious safety violations.
According to OSHA, Mountain States Contractors was replacing the Route 109 bridge over the Cumberland River in Gallatin on May 21 when the crane's main boom cable broke and the crane collapsed.
OSHA's area director in Nashville, William Cochran, said daily crane inspections indicated the cable needed replacing and there was replacement cable available on site, but the crane was not serviced.
Mountain States Contractors has 15 business days to comply, request an informal conference with OSHA's area director or contest the findings before the independent Occupational Safety and Health Review Commission.
A message left at the company's office on Tuesday afternoon was not immediately returned.
History of problems
Five workers have died on the watch of Mountain States or Britton Bridge, according to Tennessee Occupational Safety and Health Administration records, which is the state agency that handles workplace safety.
A worker died when an excavation wall collapsed in December 2005 at a Mountain States site in Nashville. The company ended up paying $135,000 in penalties, TOSHA records show.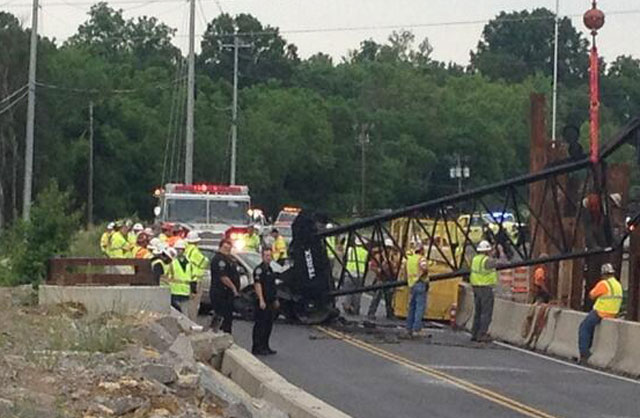 Another worker with a Mountain States crew was killed in November 2010 at a Memphis site.
A third worker died after being struck by a track hoe bucket in January 2011 in Knoxville, at a Britton Bridge site. Britton Bridge was cited for 15 safety violations and settled for $12,573 in penalties, the TOSHA report shows.
Another Britton Bridge employee was killed in May 2011 by a falling object at the same bridge construction site in Knoxville. A TOSHA inspection report related to that incident shows Mountain States as the controlling corporation of Britton Bridge. TOSHA cited Britton Bridge for two serious safety violations with penalties of $7,150. The Tennessee Department of Transportation temporarily suspended the company and its affiliate from bidding on TDOT projects while it conducted a safety review of Britton Bridge in 2011.
A fifth worker died on a Britton Bridge construction project in Guild, west of Chattanooga, in March 2012. The worker, a subcontractor employed by Gilley Construction Inc., of Manchester, was crossing from one barge to another when he fell into the Nickajack Lake and drowned in 60 feet of water, according to a TOSHA report. The company was cited for $7,750 in safety violation penalties.
This is a developing story. Check back to GallatinNewsExaminer.com for updates.
Dessislava Yankova contributed to this report.