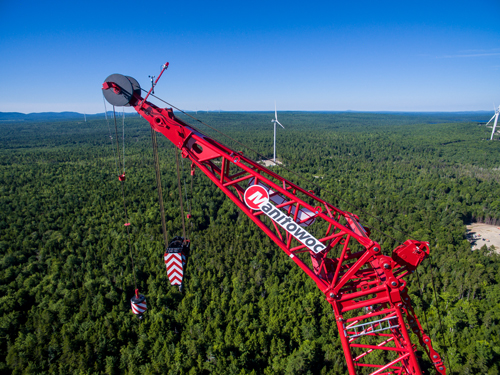 A Manitowoc MLC650 was chosen to work on an ambitious wind farm project due to its ease of assembly and compact footprint.
Multiple crane erections and disassemblies were required on this jobsite, so the crane's ability to lift at a high capacity without a counterweight wagon has increased efficiency in assembly time.
The MLC650's compact footprint enables it to fit in tight spaces in the rocky, mountainous terrain of the job site.
Construction is underway in Maine for one of the United States' most ambitious wind farms, and a Manitowoc MLC650 crawler crane is proving its worth on the job site by erecting exceptionally tall wind turbines amid difficult terrain.
Reed & Reed, a construction firm based in Woolwich, Maine, is using the crane to erect 17 wind towers that will eventually generate 56.1 MW of electricity for the region. The towers will stand 337 ft tall upon completion, placing them among the tallest in North America, and the turbines installed on top will generate 3.3 MW of electricity each.
Located in the mountains of eastern Maine, the project required a crane that could be easily erected and disassembled, but still had a high capacity for turbine assembly and a compact footprint to navigate the narrow mountain roads. The company couldn't widen the crane paths due to permit restrictions because they were surrounded by wetlands on either side and the soil was too soft. The crane needed to be taken apart and moved seven times on the project, so a crawler crane with a counterweight wagon would have made the task difficult.
Gardiner Parker, superintendent for Reed & Reed, said that the MLC650's VPC-MAX, which boosts the crane's capacity to 772 USt, removed a time-consuming step from the process since there were fewer components to assemble.
"We've had to break the crane down and move it four times so far—it's a big job when you consider that the MLC650 takes 45 tractor-trailer loads to move," Parker said. "It would be an even bigger endeavor with a more traditional, cart-equipped crane. With fewer components to consider, the MLC650 is an easy crane to transport compared to other crawlers in the same class."
The company's MLC650 is configured with the VPC-MAX attachment and 419.9 ft of main boom for this project, with an overall tip height maxing out at 449 ft. The crane is building wind towers from the bottom up, starting with the installation of 382 ft tower sections followed by the turbine assemblies. The heaviest components—the 95 USt nacelles—are being lifted to a height of 415 ft.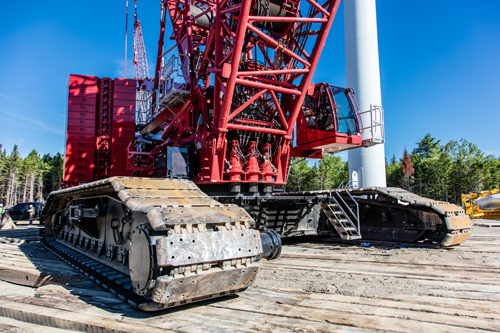 Parker also credits the MLC650's compact footprint with enabling crane operators to make the necessary lifts in the mountainous region.
"On the side of a mountain, it's hard to make an area level to accommodate the pads beneath the crane," he explained. "But the MLC650's smaller footprint helped us to erect the crane with precious little real estate. It all goes back to the VPC—not needing a cart behind this crane made pad construction a lot easier. Since there was no counterweight wagon, there was no need to create an additional pad. With an older crawler crane, there's no guarantee that we would have been able to set it up."
A 275 USt Manitowoc 999 and a 100 USt Manitowoc 10000 are also on the job site to assist Reed & Reed's operators with erecting base and mid-tower sections, and assisting with assembly and disassembly of the MLC650. Construction on the project began in May, and the wind farm is expected to become operational later this year.
"We've had good luck with Manitowoc cranes," Parker said. "When it came time to choose a crane big enough to erect turbines this tall, Manitowoc was our first choice in part because of the great engineering support and lift planning services we've received from them over the years. Our local dealer, Shawmut Equipment, played a big role in that choice, too. We've received consistently great service from them over the years."
The company purchased the MLC650 from Shawmut Equipment, one of Manitowoc's leading distributors in the Northeast. The Manchester, Connecticut-based company has served New England and the Atlantic provinces of Canada since 1957. Shawmut is a third-generation, family-owned business and has consistently ranked highly in independent surveys that rank customer service and satisfaction.
Reed & Reed is one of the largest and most versatile general contractors in northern New England. The company had been family owned and operated from its founding in 1928 until earlier this year, when it set up an employee stock ownership plan. Originally a bridge building firm, Reed & Reed has expanded its services in the last 20 years to include marine terminals, parking garages, wind farms, electrical services and numerous other types of projects.