With a strong lift from the crane business,  Manitowoc Co. reported Thursday its quarterly earnings more than doubled from a year ago.
The maker of construction cranes and food service equipment said fiscal third-quarter net income rose to $52.9 million, or 39 cents a share, from $22.2 million, or 17 cents, in the year-earlier period.
The Manitowoc-based company said sales increased 7% to $1 billion from $947.5 million. The increase was driven by a 10% gain in crane sales, the company said.
"While the global markets have not rebounded to the degree that we had expected, we generated solid third-quarter sales growth and notable margin improvement," Manitowoc Chairman and CEO Glen Tellock said in a statement.
Read more from Journal Sentinel:Â http://www.jsonline.com/business/manitowoc-earnings-more-than-double-on-higher-crane-sales-b99127749z1-229155341.html#ixzz2ikNG26mW
Follow us:Â @NewsHub on Twitter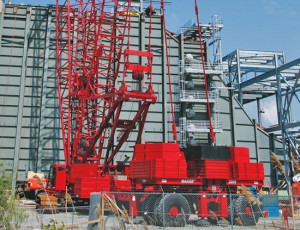 Photo Courtesy of http://www.shawmutequipment.com/