Link-Belt debuted the  TCC-750 telescopic crawler crane for the first time at this year's ICUEE show in Louisville.
Designed for a variety of general lifting duties as well as specialty applications, the TCC-750 is useful for foundation work, bridge building, rail construction, power transmission lines and the oil and gas sector. The crane can also include a hydraulically powered earth auger or work platform.
Available in the second quarter of 2014, the 70- to 80-ton crane features a 2014 Tier 4 final engine package; a four-section, full-power formed boom that has a 121-foot max tip height; a quick reeve boom head; lightweight nylon head sheaves that reduce weight and a hammerhead boom nose that enables the operator to work at high boom angles.
Link-Belt's "A" boom mode offers increased capacity for short radii, and the standard mode extends all four sections equally for extended reach.
Safety features include upper guard rails and a rear-view and winch-view camera system. Sealed lower and hydraulically retractable side frames ensure quick transport with the tracks attached.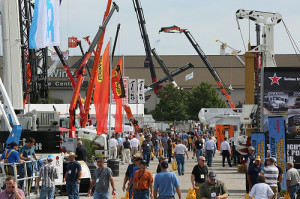 – See more at: http://www.equipmentworld.com/link-belt-to-debut-new-tcc-750-telescopic-crawler-crane-at-icuee/#sthash.1AR9oU77.dpuf