Heavy equipment blocked one southbound lane of Military Street in front of the Times Herald in Port Huron as crews worked on the building Thursday.
Workers used a crane to remove large pieces of the building facade as renovations continue to the 60,000-square-foot building.
Mortgage company Michigan Mutual purchased the building in March for $950,000, according to county records. Michigan Mutual is modernizing the building's exterior with two-story windows facing Military Street.
The company has plans to move employees into the first floor. The newspaper, which has been in the building for 35 years, is leasing the second floor.
Michigan Mutual, which sells mortgages nationwide, has almost 200 employees at all its sites and about 65 in Port Huron, said Hale Walker, Michigan Mutual co-owner and senior vice president. In November, the company had about 315 employees.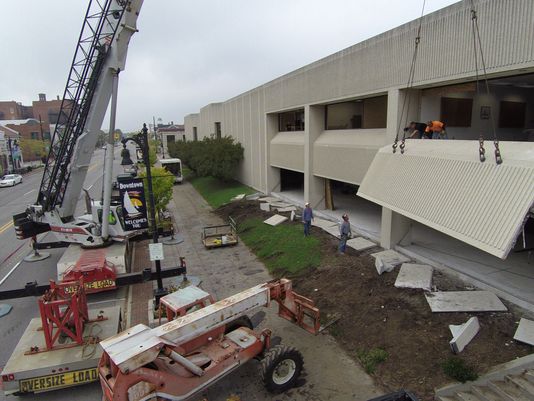 Times Herald5:22 p.m. EDT October 2, 2014