The underground mystery continues. What is the object that has stopped Bertha, Seattle's giant tunnel boring machine.
Two drilling cranes have been set up to determine what the obstruction is that has forced Bertha to stop in her tracks. The cranes are set up at Old Alaska Way and Jackson Street, right above where Bertha is stopped.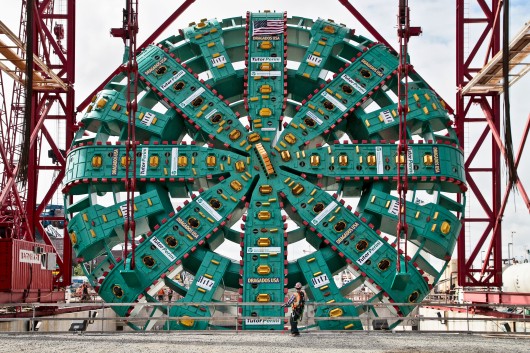 Bertha, which is digging the new Highway 99 tunnel under Seattle, has been stopped since Friday, about 60-feet underground due to the unidentified obstruction.
Washington's Department of Transportation and the Seattle Tunnel Partners were readying drilling equipment at Seattle's waterfront. It's a curious sight for onlookers, and the mystery has sparked some fun speculation.
Chuck Cacek with Sound Earth Strategies says about a hundred years ago, Denny Hill was scraped down and emptied into the waterfront. But he says thousands of years ago, Seattle was covered by ice and he doubts whatever is holding up Bertha is man made.
"It could be a giant chunk of rock that was floated down as the glacier extended to the south," said Cacek.
by KING 5 News
NWCN.com
Posted on December 10, 2013 at 12:21 PM
Updated yesterday at 5:55 PM