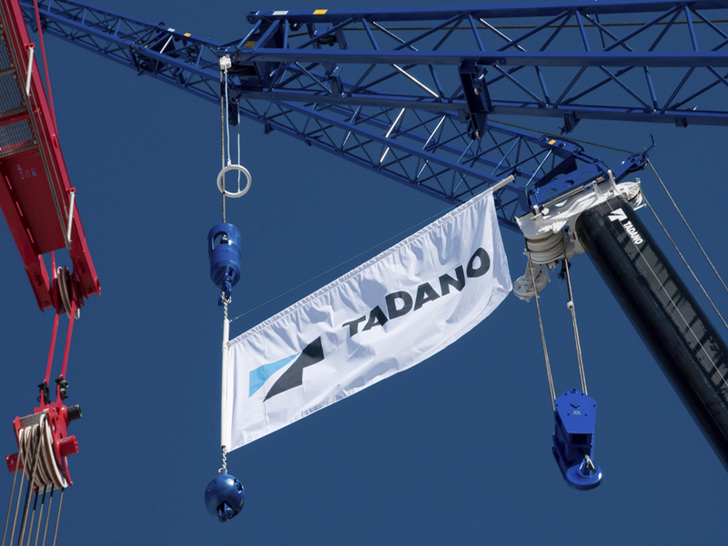 Japanese lifting equipment manufacturer Tadano has announced its financial results for the fourth quarter of the 2016 financial year (ending 31st March, 2017). Total sales fell to 179,676 million yen, down 14.2% from the previous fiscal year. Sales outside of Japan accounted for 43.1% of all sales.
According to Tadano, decreased sales and exchange rate effects resulted in an operating income of 18,484 million yen, down 40.5% from the same period the previous fiscal year. Net income totaled 18,490 million yen, down 39.7% from the same period the previous fiscal year.
Tadano said that over the second half of the fiscal year (ending 31st March, 2017) the Japanese economy saw improvements in corporate earnings, and the beginnings of recovery in capital investment and personal consumption. Production and exports improved, and the economy's gradual recovery continued. In contrast, Tadano said the European economy saw no growth and that emerging markets were in a state of slowdown. Various factors contributed to a heightened sense of uncertainty, it claimed, including: the economic slowdown in China; trends in the prices of crude oil and other natural resources; geopolitical risks; the changing face of policies in the US; and the political situation in Europe.
Despite this, there were some signs of encouragement. In the crane industry Tadano said it found the Japanese market shifted towards stronger demand overall due to: earthquake recovery and reconstruction; disaster preparedness and mitigation activities; efforts to address an aging infrastructure; and private sector construction investment.
However, with regards to mobile cranes, demand in the Japanese market decreased despite Tadano's focus on sales expansion. Mobile crane sales in Japan fell by 11.9%, to 45,017 million yen, partly due to the production changeover required to make new-model cranes, said Tadano. Outside of Japan, Tadano claimed market demand, which had peaked in 2012, continued to fall overall, with demand in Europe remaining flat and demand in North America, the Middle East, and Southeast Asia decreasing. Outside of Japan, sales of mobile cranes decreased by 28.6% year-on-year, with sales totaling 64,609 million yen. Total sales of mobile cranes decreased by 22.5% from the previous year to 109,627 million yen. Tadano attributed this to a further drop in demand and to the strength of the yen.
Sales of truck loader cranes in the Japanese market also fell, by 2.6% from the previous fiscal year, to 18,192 million yen, while sales in markets outside of Japan totaled 1,440 million yen, down 14.7% from the previous fiscal year. Total sales of truck loader cranes amounted to 19,633 million yen, down 3.6% from the previous fiscal year.
Sales of parts, repairs, used cranes and other products and services fell 3.1% from the previous fiscal year to 27,213 million yen, Tadano reported.
Looking forward, Tadano said it expects the Japanese economy to continue its gradual recovery, although it thinks a lack of qualified operators and the demand for trucks will act as counter forces, causing mobile crane sales to remain flat and truck loader sales to decline. Outside of Japan, while US infrastructure investments and the recovery of crude oil and natural resource prices are expected to stimulate some sales, overall demand is expected to fall, said Tadano. It believes this decline will bottom-out in 2017.
Tadano's focus on long-term growth, was demonstrated by the company's investment of 2,400 million yen in securing a 20-hectare plot of land in Takamatsu, Japan, which will be used for a new plant that will expand its production capabilities. The company is aiming for the plant to start operations sometime during the 2018 financial year, and it plans to invest an estimated 17,500 million yen in the facility.
"We believe that the lifting equipment industry is a long-term growth industry with big potential moving forward. However, in the short- and mid-term, demand is volatile," concluded Tadano.