Three of the world's biggest crane manufacturers tell what customers in the Middle East are looking for from their crawler cranes
No single crane type can fulfil every lifting requirement, but crawler cranes come closer than most. The crawler crane's primary selling point is its ability to do the heavy lifting on a project. The largest examples can cope with thousands of tonnes of weight.
However, these machines have a few other tricks up their sleeves. Say, for example, you need to perform a heavy lift on soft ground.
Whilst an all-terrain crane might be equipped to reach the lift site, it won't necessarily be able to cope with the weight that you want to move. A tower crane, meanwhile, can lift heavy loads to great heights, but it's not the most practical of tools unless all of its jobs are to be performed within a small area.
The crawler crane, meanwhile, offers a potent combination of brute force and mobility. It might not be the lightest on its feet, but at least its feet aren't planted to the ground.
This mobility stems from the time-honoured track system, which allows a unit's weight to be dispersed over a large surface area whilst maintaining its ability to move from one place to another.
It isn't difficult to see why crawler cranes are valuable to the Middle East's construction sector.
This, after all, is a region in which there is plenty of heavy lifting to be done, and an abundance of soft ground on which to do it. In the following feature, PMV speaks to three of the sector's biggest names to find out what it takes to produce a crawler crane equipped for conditions in the Middle East.
by James Morgan on Mar 7, 2014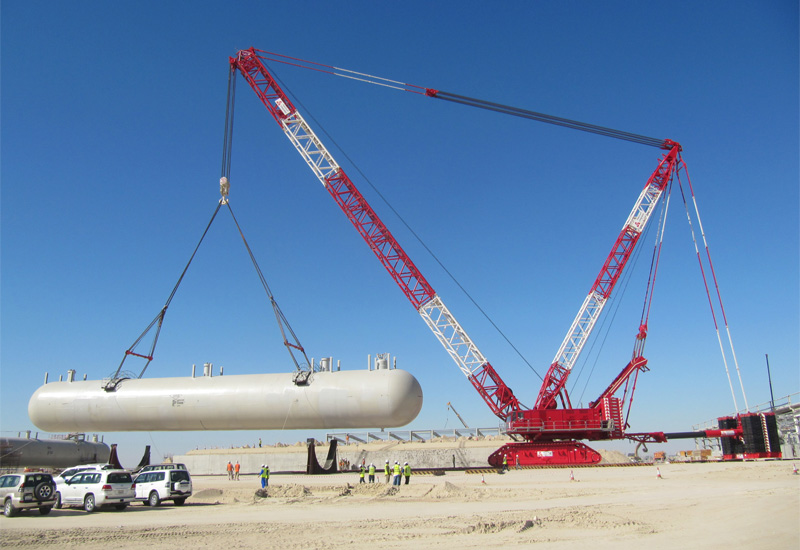 Slow and steady wins the race
Terex Cranes' Rüdiger Zollondz says that crawler crane demand in the Middle East is stable
With roots stretching back to the 1930s, Terex is one of the best-known names in the global construction industry. Whilst the group boasts lines ranging from aerial work platforms to motor graders, cranes continue to represent one of the cornerstones of its ongoing success.
Crawler crane demand in the Middle East might not be setting new records, but the region continues to play an important part in Terex Cranes' overall strategy, according to product marketing director Rüdiger Zollondz.
"Energy- and petrochemical-related projects are typical applications for crawler cranes," he told PMV. "Terex has been present in the Middle East for a long time, and this has traditionally been a very important market for crawler cranes – especially our biggest ones.
"The current demand for these cranes is not at an historical high, but it is significant," Zollondz continued. "There are a number of ongoing projects that demand crawler cranes, and we have very good customers across the region with whom we enjoy long-standing relationships."
As Zollondz explained, customers in the Middle East consider a number of different factors when choosing which crawler crane to purchase.
"Safety is a top concern," he said. "We always strive to push the barriers higher and develop new and improved safety measures. In crawlers, for example, Terex has developed the ESTA award-winning fall protection system, and railings that surround our machines' component access points.
It is important to remember – and this is especially true for the Middle East – that petrochemical jobsites have some of the highest safety requirements in the world. If a crane does not comply with these requirements, then there is no job."
Versatility is another important consideration for customers in this region, according to Zollondz. Crawler cranes that are able to take on a wide variety of jobs – and therefore minimise the need for dedicated equipment or attachments – tend to be the ones that prove most popular in the local marketplace.
Despite the many advantages offered by crawler cranes, their bulk can prove somewhat of a challenge when it comes to transportation.
"Designing a crane that can lift thousands of tonnes is no easy task," said Zollondz. "Designing a crane that can lift thousands of tonnes whilst remaining transportable, therefore, is a major challenge. Our engineers have achieved outstanding feats in this regard. Terex's super-heavy crawlers are best in class in terms of transportability. From the outset, each component is designed with transportation in mind."
Zollondz also emphasised the importance of standardised serial components and user-friendly assembly. As with any crane, however, capacity is king. A crawler crane's primary function is to lift, and in the Middle East, this usually means lifting big.
"In terms of our heavy lifters – around 600t – our most popular crane is the Terex CC 2800 with more than 300 units sold worldwide," said Zollondz. "In terms of our super-heavy lifters, the most popular model is the Terex CC 8800-1 with its 1,600t maximum capacity."
Despite the success of its existing range, Terex continued to improve its crawler crane line-up in 2013 with the addition of the Superlift 3800.
"The Superlift 3800 is the successor to the aforementioned Terex CC 2800," explained Zollondz. "We decided to develop a completely new crane. Essentially, we took everything we already knew about cranes and combined it with extensive customer feedback in a bid to create the best crane in its class. The result is a crane that can do more than its predecessor, and with lower operating costs."
Zollondz and his colleagues are confident that the investment that Terex has placed into its crawler crane range will pay off as the market continues to recover. Sales might not be setting new records just, but the stage seems set for sustainable growth.
"We expect that crawler crane demand in the Middle East will continue to progress as it has done in recent years," he told PMV. "The market might not be exhibiting pre-crisis levels, but it is showing good activity. We are carefully optimistic."
Terex Superlift 3800
– Maximum lift capacity: 650t
– Maximum load moment: 8,426mt
– Maximum boom length: 192m
– Maximum hook height: 190m
– Modular hook block
– System: 190t to 650t
– Maximum fuel capacity: 1,207L
Big cranes for big markets
Wolfgang Beringer tells PMV that when it comes to growing crawler crane sales in the Middle East, German manufacturer Liebherr has its eyes firmly fixed on Saudi Arabia's petrochemicals market
Established in 1949, Liebherr first enjoyed success in the field of tower cranes. More than six decades later, the German-headquartered manufacturer produces a full range of cranes, including tower cranes, mobile cranes, and of course, crawler cranes.
Liebherr, however, is a firm that doesn't do things by halves. As Wolfgang Beringer explained, the manufacturer works hard to deliver the biggest cranes to the biggest markets.
"When Liebherr talks about crawler cranes, it is referring to units with lifting capacities of 350 tonnes or above," he told PMV.
"This is because our works in Ehingen only produces large crawler cranes, up to a maximum capacity of 3,000 tonnes. The Middle East is Liebherr's fourth largest market at present, behind Europe, the Far East, and North America. The most important country within this region is KSA, where sales are mainly driven by petrochemicals applications."
s Liebherr sells crawler cranes predominantly to the petrochemicals market within the Middle East, its customers have specific criteria when it comes to choosing crawler cranes.
"Crane safety and reliability are most important within this sector," explained Beringer.
"However, our customers also value the reliability, user-friendliness, and fast setup and erection times offered by Liebherr crawler cranes, especially during shutdowns of refineiries."
Liebherr's sales structure means that its entire line of crawler cranes is available on the global market, regardless of the country in which a customer is based. Even so, Beringer seemed pleased with progress in the Middle East, and is hoping for growth during the coming year.
"We see a positive market compared to 2013," he concluded. "We already have several projects in the Middle East. We are working on strengthening our presence and support for our customers in this area, as well as further improving our after-sales service.
Presently, we are constructing a new sales and service facility in Dammam, Saudi Arabia, with a repair shop, spare parts stock, and offices for sales and service staff."
Liebherr LR 11000
– Maximum lift capacity: 1,000t
– Maximum load moment: 15,012tm
– Maximum boom length: 156m
– Lattice jib: 18m to 114m
– Total counterweight: 790t
– Engine output: 641kW
– Maximum travel speed: 1.36km per hour
Rising to the challenge
David Semple, managing director of Manitowoc Crane Group Middle East, tells PMV why this region tests crawler cranes to their very limits
Manitowoc produced its first lattice boom crawler crane in Wisconsin, USA, back in 1925. Almost 90 years later, the firm offers units with capacities ranging from 73 tonnes to 2,300 tonnes. Whilst the company has branched out with the acquisition of the Potain and Grove brands, which produce tower and mobile telescoping cranes respectively, Manitowoc itself remains focused on the production of crawler cranes.
The manufacturer is committed to producing crawler cranes tailored to the conditions of the regions in which they operate. As you might imagine, regions don't come much more challenging than the Middle East.
"Whilst capacity is of course important and must meet a specific project's needs, durability is paramount," explained David Semple, managing director of Manitowoc Crane Group Middle East. "The conditions of many projects in the region will test any large-scale machine to its limits, both in terms of what it must lift and the environment that it must endure.
"We build and test our cranes to withstand the harshest environments, and we work to make routine maintenance easy," he continued. "This allows owners to keep their cranes running for years with minimum hassle."
With excitement growing over a resurgent construction market and new projects being announced across the region, Semple and his colleagues are experiencing increased interest in their crawler crane line-up.
"The demand for crawlers in the Middle East is improving and growing," he told PMV. "General market conditions are on the rise and large-scale infrastructure projects on the move. Such projects necessitate high-capacity lifting equipment."
For this reason, the US-headquartered crane manufacturer has developed a raft of features to appeal to construction professionals operating in the GCC region.
"Manitowoc crawler cranes are well adapted to the Middle East's working conditions, and have proved popular in the region for more than 50 years," said Semple.
"Features such as independent hydraulic circuits, interchangeable crawlers with transmission by shafts, and overall strong designs, make our products sturdy and durable in extreme heat, dust and humidity."
Although Manitowoc's 250- tonne capacity 999 crawler crane remains the most popular of its offerings in the Middle East, the firm plans to unveil several new models at this month's CONEXPO-CON/AGG 2014 [page 25]. In the meantime, Semple says that his immediate priority is to continue to strengthen the company's dealer network in the Middle East.
"We will continue to train, support and develop our distribution network to deliver the best sales and service advice to our customers in the farthest corners of the region," he said. "We have worked on this for years, and are proud of where we are now. However, it is an ongoing process that requires constant attention.
"We see a lot of infrastructure project activity in the GCC, and one of our strengths is the ability to provide package solutions to crane users" Semple concluded.
"For instance, we have the capacity to deliver Potain tower cranes, Grove mobile cranes, and Manitowoc crawler cranes to the same site. Another priority for us in 2014, therefore, is to become a significant part of such projects, be they in KSA, Qatar, or the UAE."
Manitowoc 999
– Maximum lift capacity: 250t
– Maximum load moment: 1,115mt
– Maximum single line pull: 131kN
– Heavy-lift boom: 88.4m
– Fixed jib on heavy-lift boom: 100.6m
– Luffing jib on heavy-lift boom: 128m