A 34-year-old Quincy man, who authorities said was one of two workers who fell to their deaths when a crane toppled on a Bourne job site yesterday afternoon, "died doing what he loved," heartbroken family members said.
"You won't believe this, but he was very happy to be where he was today," said John Loughran Sr., whose son, also named John, died along with another man while working on high-tension electric wires. "He wouldn't have been any other place than up in the air, near the Cape Cod Canal, looking over Cape Cod. He died doing what he loved, and we don't know how it happened yet."
John Loughran Jr. and Joseph L. Boyd, 34, of Fall River fell more than 100 feet from a crane attached to a boom truck when it tipped over, said Cape Cod and Islands District Attorney Michael O'Keefe. Both men died on impact, said Bourne Police Chief Dennis Woodside.
How the truck tipped over is under investigation by state police, Bourne police, the district attorney's office and the Occupational Safety and Health Administration.
"OSHA is going to investigate the incident, but I wouldn't be surprised if wind had something to do with it," O'Keefe said.
The workers were at Cape Cod Aggregates Corp., said Bourne police Sgt. Kim Young. They worked for Mass Bay Electric, which was doing contract work for Nstar, according to Rhiannon D'Angelo, a spokeswoman for Nstar. Officials from Cape Cod Aggregates and Mass Bay Electric did not immediately return calls.
Loughran Sr. said he supervised the type of work his son did and worked with him from time to time. He learned of his son's death when his brother Paul Loughran — a safety director for IBEW Local 104 — called and told him the news.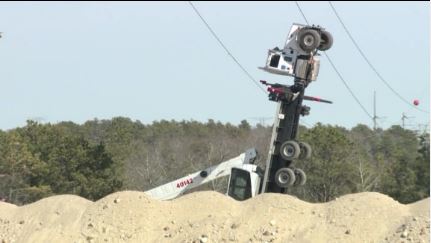 "All John wanted to do is help everybody. He was just an incredible kid with millions of friends, and I can't even explain the type of man he grew into at 34 years old," he said, holding back tears. "He found his calling. He couldn't have 
been happier."
Other family members echoed the sentiment.
"He loved everything about his job. He loved being up there on a beautiful day like today, and he loved his fellow linemen, who he referred to as 'his brothers,' " said Amy Loughran-Dolan, Loughran Jr.'s sister. "He loved the ocean and boating, and he couldn't wait for summer. Most of all: He loved what he did. He died doing the 
job he loved."
Loughran Jr. traveled the country to fix downed power lines after major storms, including Superstorm Sandy in 2012.
"Anywhere where people were unfortunate and lost their power after a storm, he was there. He was the first guy up there in the bucket," Loughran Sr. said. "If people needed him, he was there. That's how I want people to remember him."