An accident took place in Madhya Pradesh on April 8th 2015 ( Wednesday ). A crane which was collapsed due to rainfall on Wednesday has taken the lives of 7 people and injured 5 people.
The crane which has collapsed is said to be used by the jain temple in its construction.The incident took place in Amarkantak in annupur district of Madhya Pradesh.
There were problems being faced by the officials as the weather is not supporting for the rescue and relief operations of the victims.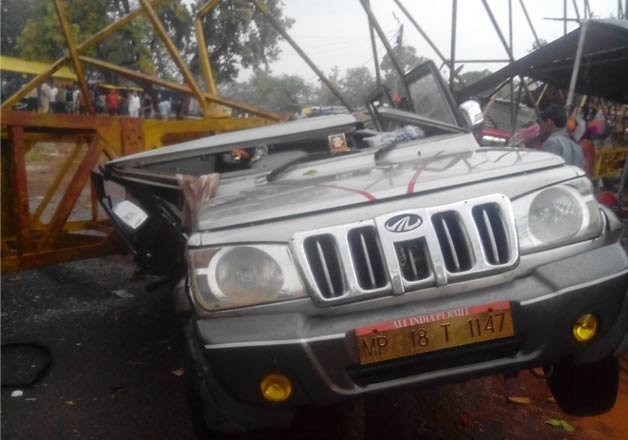 Many outlets and other vehicles were badly damaged in the incident. The District collector of Annupur Mr. N.S Parmar said that the rescue operations are going on to remove people who were crushed and trapped under the crane.
Madhya Pradesh state govt has announced a sum of Rs. 1 Lakh to the families of the people who are Dead and a sum of Rs. 25000 to the families of people those are injured.The victims are not yet identified.
Mr. Parmar said due to bad weather conditions and continuous rainfall , many trees fell on electric wires due to which the electricity was interrupted badly which in turn effecting the rescue operations due to darkness.
Madhya Pradesh chief minister expressed his condolences to the people who are dead.
Parmar said that the rescue operations are going on and we have sent the injured to the local hospitals and hope that they will recover soon.
One of the injured people talking to the press said that two of his family members were taking shelter in a shop under the crane due to rain. Soon after when he reached there the crane suddenly fell on the shop and collapsed. He said that both of his family members were killed in front of his eyes within seconds.
SOURCE: swetha, fitnhit.com