The ALL Family of Companies has strengthened its all-terrain crane fleet with five new Liebherr ATs, all featuring an innovative crane support system.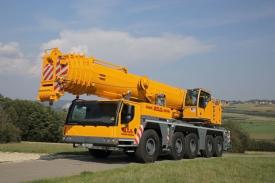 ALL made the purchase as part of its continual investment in the newest and best equipment and a response to increased demand for cranes in specific markets.
The Liebherr ATs, with a wide range of boom lengths and lifting capacities, will be directed to locations where demand is heaviest, but will generally serve customers in Cleveland, the Carolinas, branches serving the northern part of the U.S., and ALL locations in Canada.
The new Liebherr ATs, scheduled for delivery in spring and summer of 2016, include:
Two 70-USt LTM 1060-3.1: one will be shared among the Central Rent-A-Crane (Indiana) branches, Central Contractors Service branches (Illinois), and ALL Canada Crane locations, and the second will go into the general company fleet
One 65-USt LTM 1055-3.2, going to ALL Carolina Crane
One 240-USt LTM 1200-5.1, going to ALL Carolina Crane
One 265-USt LTM 1220-5.2, going to the main yard in Cleveland
These ATs include Liebherr's innovative, award-winning VarioBase variable supporting base system. VarioBase allows the operator to customize the crane's outrigger extensions to best take advantage of the available working space, which in turn helps enhance lifting capacity and flexibility on the job site while creating greater efficiency. In tight spaces or on narrow sites, it can be challenging to extend all the outriggers as far as necessary for proper and safe lifting.
With VarioBase, each support can be extended to whatever custom length is needed to fit the site. Then the load moment limiter within the crane's LICCON control system ensures that the unit can operate and hoist loads safely. According to Liebherr, VarioBase calculates the precise lifting capacity for any support base and then monitors the crane's stability, which helps increase the safe working range as well as the lifting capacity. The work planner in the LICCON system also allows jobs to be planned and simulated in advance if desired.
"Liebherr continues to produce excellent machines that respond to the challenges we see in the field," said Michael L. Liptak, president of the ALL Family of Companies. "We are dedicated to continuing our investment in equipment with cutting-edge technology like the new VarioBase system so we can provide our customers with the optimal equipment for every lift, whatever the challenges involved."
Source: liftandaccess.com