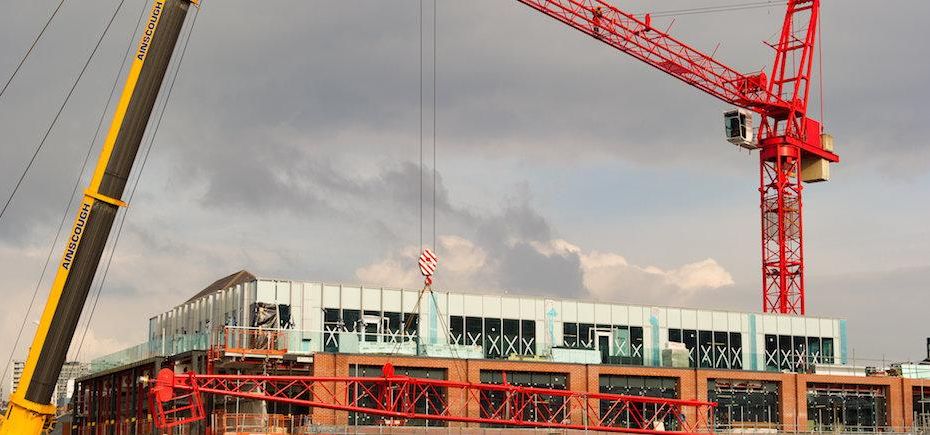 A giant crane seen above the Leeds skyline in 2015 has been removed this week as the city centre development, 6 Queen Street, enters the final stage of its build.
At the centre of the city's business district, the crane, which reaches over 300 feet tall at its highest point, was removed after an approximate 17 hour operation.
The cranes removal signals the near completion of the BREEAM 'Excellent' rated office scheme, delivered by Rockspring Property Investment Managers LLP and its development partner, Marshall CDP.
During its near 10 month tenancy on site, the Wolff 180B luffing Jib tower crane, which can lift weights of up to two and a half tonnes up to a height of 180ft, played a vital role in the construction of the building.
Rod Mordey, European director at Rockspring, said: "To remove the crane from Queen Street has been a significant operation, given the nature of the site and its position at the heart of the business district. We're glad to say that it has gone smoothly and that we are now on to the final internal fit-out ready for completion later this year.
"It's often said that the number of cranes on a city's skyline is an indicator of its economic health, but when one comes down, it demonstrates a building which is nearly ready for new occupiers and the jobs and growth they bring. We've had strong interest from the market and we look forward to announcing who those new occupiers will be in the coming months."
Set over six floors, and totalling a net area of over 70,000 sq ft, the new building will be ready for tenants in June 2016.
Once complete, the development will feature flexible office space with floor plates ranging from 4,359 sq ft to 14,047 sq ft, and secure basement parking for 47 cars, 82 cycle spaces and 8 motorbike spaces.
Richard Fraser of Carter Towler and Elizabeth Ridler of Knight Frank are acting as joint letting agents for scheme.
Elizabeth Ridler added: "In the last 12 months, Leeds has seen a significant uplift in commercial office development and it's now at its highest level since 2007. While this is hugely positive for the city's skyline, the timing is paramount as there are many notable lease expiries and break options from notable occupiers who require a Grade A  product which until recently has been in very scarce supply."
Source:Â bdaily.co.uk