Honolulu Harbor is the life blood for the majority of Hawaii's goods and if that goes down, the state is ready.
On Monday, the state, U.S. Coast Guard and U.S. Navy blessed a new Grove GMK6300L mobile crane at Pearl Harbor that will assist with cargo off-loading in the event a natural disaster renders Honolulu Harbor inoperable.
Securing the $3 million crane was a collaborative effort among the state of Hawaii, industry and port partners, and the U.S. military, and made possible with funding from a port security grant program.
"When they came here and we showed them around our ports and they understood the importance of the people and state, we would starve without these ports. We couldn't bring in enough things by air," said state adjutant general Maj. Gen. Darryl Wong. "So then they realized how important this was and they agreed to give us this grant."
Maj. Gen. Wong hopes to next get a crane ship ported in Hawaii, which could store a number of cranes in the state.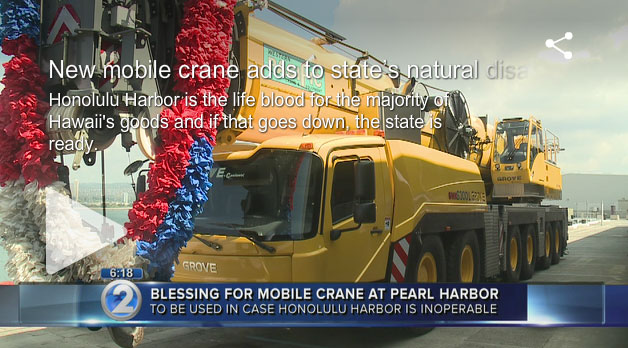 By Web Staff Published:Â  Â Updated:Â