The installation formed part of Network Rail's drive to electrify the South Wales mainline
Work to replace a Newport bridge was completed at the weekend, after Network Rail moved a new structure into position on Bridge Street.
Time lapse footage captured the assembly of a 600 tonne crawler crane which was used to lift and install the new bridge deck – located at Newport Station Car Park – in the early hours of Saturday morning.
The installation to replace the old structure formed part of Network Rail's drive to electrify the South Wales mainline.
The Bridge Street works are estimated to be finished by the end of this year.
Karl Gilmore, program manager at Network Rail, said: "The upgrade work we completed this weekend as part of our Railway Upgrade Plan to deliver a bigger, better railway for passengers was focused on five bridges in Cardiff and Newport.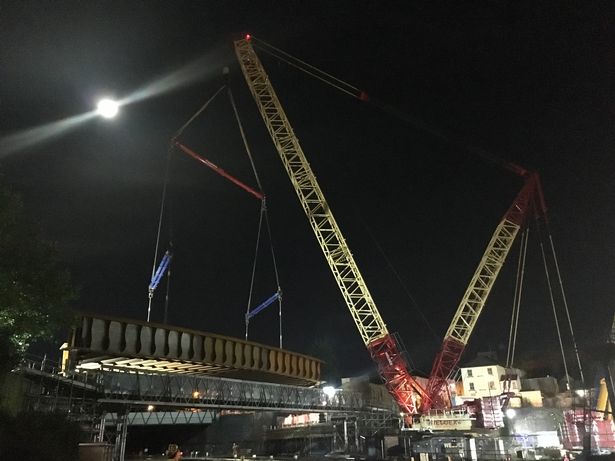 "This work was a crucial element in preparing the South Wales Mainline for electrification and over 100 of our orange army worked day and night to successfully complete all the vital milestones we set out to achieve over this 56 hour period.
"I'd like to thank the local community and passengers for their patience while we carried out this work."
As part of the improvement scheme, several other bridges were also demolished in the Newport area over the weekend.
Maesglas Road Bridge was demolished along with Hawse Lane and Green Lane bridges located in the Marshfield area of Newport and work will now begin to reconstruct them.
In Cardiff the main span of Beresford Road Bridge in Splott was demolished and work was also completed in the Cardiff Central area.